NIAID funds projects developing non-traditional therapeutics for bacterial infections
NIAID has awarded $5 million in funding for 24 research projects to help address the growing health threat of antibiotic resistance…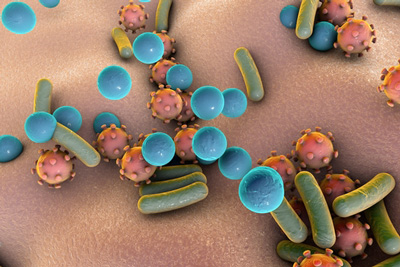 The US National Institute of Allergy and Infectious Diseases (NIAID) has awarded approximately $5 million in funding for 24 research projects seeking to develop non-traditional therapeutics for bacterial infections to help address the growing health threat of antibiotic resistance.
 "The discovery, development and deployment of antibiotics have transformed medicine; however, microbes continually evolve and become resistant to these lifesaving drugs," said NIAID Director Anthony S. Fauci, M.D. "New strategies are desperately needed to treat patients with antibiotic-resistant infections that often are deadly. These new NIAID grants will provide funding to researchers developing unique, non-traditional therapies that could complement or even replace currently available antibiotics that are losing effectiveness." 
Increasing resistance to antibiotics coupled with the slow pace of new antibiotic development threatens to erode the past 70 years of progress in fighting life-threatening bacterial infections. The overuse and abuse of antibiotics drives this issue and, as a consequence, bacteria adapt to antibiotics designed to destroy them, making the drugs less effective and allowing antibiotic-resistant strains to survive and multiply.
NIAID awards provide funding support for two years
A non-traditional therapeutic is an antibacterial treatment that works differently than traditional antibiotics, which typically target one or more essential pathways, such as those involved in cell-wall and protein synthesis, to directly kill or inhibit the growth of many types of bacteria. One non-traditional approach, called therapeutic bacteria, uses good bacteria found in or added to the human microbiome to target or control the growth of harmful bacteria. Another alternative approach is bacteriophage or phage therapy, which uses viruses that only affect bacteria to reduce or eliminate those bacteria in humans. Other examples of non-traditional approaches include adding decoy targets to prevent bacterial pathogens from producing disease, enhancing human immune responses to pathogens, and developing drugs that incapacitate the pathogen's ability to adapt and compete.
The 24 phased innovation awards were made to 18 academic institutions and three industrial organisations. Among those awarded are Avidbiotics Corporation for modified r-type bacteriocins to specifically target Clostridium difficile, and UCSD for nanoparticle decoys for treating infections with enterotoxin-producing pathogens. The awards provide support for two years with the possibility of three additional years of funding for the most accomplished projects.