Allogeneic CAR T-cell therapy: the future of cancer care
In this Q&A, Dr Devon Shedlock discusses Poseida Therapeutics' cancer treatment pipeline and the advances it has made towards developing chimeric antigen receptor (CAR) T-cell therapies for liquid and solid tumours.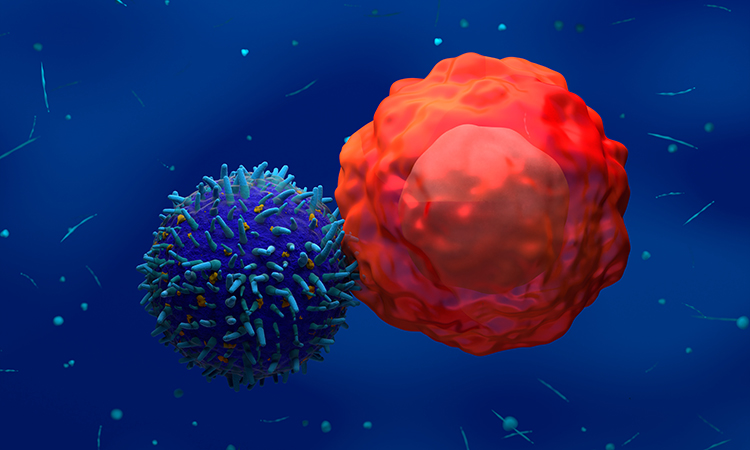 Can you describe the cell therapy pipeline at Poseida?
Poseida Therapeutics is developing a new class of cell and gene therapies with the capacity to cure cancer and rare diseases. In cell therapy, we believe allogeneic (allo) CAR T cells are the future of cancer care. Using our proprietary genetic engineering technologies, we are advancing a pipeline of robust allo CAR T-cell product candidates, which are designed to provide a safe and efficacious "off-the-shelf" treatment for multiple myeloma, B-cell malignancies and various solid tumours.
We are excited to develop allo CAR T cells targeting haematologic malignancies with our cell therapy partner, Roche, announced1 in August 2022 and continue to advance internal CAR T-cell programmes focused on solid tumour indications.
Poseida's allo CAR T-cell pipeline includes:
P-MUC1C-ALLO1: candidate targeting the C-terminal region of Mucin-1 expressed on solid tumours derived from epithelial cells, including breast and ovarian cancers, among many others
P-BCMA-ALLO1: candidate targeting B-cell maturation antigen (BCMA) being developed in partnership with Roche to treat relapsed/refractory multiple myeloma
dual CAR allo programmes: multiple candidates targeting either haematologic malignancies or solid tumours currently in pre‑clinical studies; these contain two fully functional CAR molecules to target cells that express at least one of the two intended targets
subject to ongoing learnings from our P-PSMA-101 autologous (auto) CAR T-cell programme currently in Phase I, we are also developing P-PSMA-ALLO1, an allo CAR T-cell product candidate targeting prostate-specific membrane antigen (PSMA) to treat metastatic castration-resistant prostate cancer (mCRPC).
What are you doing that is particularly innovative?
We are developing allo CAR T-cell therapies leveraging our core non-viral genetic engineering platform technologies:
Super piggyBac® DNA delivery system: a non-viral technology capable of inserting large genetic payloads into the cell genome
Cas-CLOVER™ site-specific gene editing system: a high-fidelity gene editing system that can make site-specific deletions, insertions and knock-ins in many cell types, with no to low off-target effects.
At Poseida, all our allo CAR T cells have a preponderance of early memory cells, especially many stem cell memory T cells (Tscm), which we expect will provide a more gradual, durable anticancer response with less toxicity. Tscm may also overcome potency limitations of CAR T cells in solid tumours due to their capacity to generate wave after wave of effector CAR T cells.
Our auto CAR T-cell clinical trials confirmed that CAR Tscm correlate with clinical responses as well as a safer therapy, resulting in lower rates of cytokine release syndrome (CRS) and neurotoxicity, requiring fewer intensive care unit (ICU) visits and enabling out-patient dosing in some cases. We have incorporated learnings from our P-BCMA-101 auto programme into P-BCMA-ALLO1. In addition, our dual CAR approach addresses single antigen loss and heterogeneous antigen expression and is advancing rapidly towards the clinic. Our booster molecule can produce up to hundreds of doses in a single manufacturing run by helping to prevent the undesirable consequences of T-cell receptor (TCR) disruption during manufacturing, known to severely affect CAR T-cell product quality and yield. In addition, a multitude of innovative armouring technologies are currently under development and poised for deployment in the clinic to enhance safety, efficacy, persistence and durability, if needed.
What are the main advantages of CAR T-cell therapies against cancer?
T cells are ideal for use in cell therapies against cancer since they are capable of extensive proliferation and serial killing in vivo, expanding a hundred- or thousand-fold to effectively kill tumour cells and deliver strong clinical responses. The early memory component of a CAR T-cell product, especially Tscm (defined by the ability for long-term persistence, self-renewal and multi-potency), may be capable of protection over time and in the case of tumour relapse.
Other cell modalities, such as CAR natural killer (NK) cells and CAR macrophages, are not capable of this level of proliferation and persistence and may require multiple doses to achieve comparable results as a single dose of a highly proliferative CAR Tscm product. CAR T cells derived from induced pluripotent cells are new but have yet to be clinically validated. By nature, these cells are monoclonal and it is unclear whether being monoclonal will yield any functional advantages over the more traditional polyclonal CAR T-cell therapy where semi‑random transgene insertion in the genomes of a polyclonal population of T cells produces a similarly polyclonal population of anticancer clones, each harbouring their own potentially separate functional advantages (eg, growth, killing, persistence). In this way, a functionally polyclonal CAR T-cell product may provide persistent tumour control and protection in a diverse patient population where each patient's tumour, tumour microenvironment or tumour burden are distinct.
What are some of the challenges when developing CAR T-cell therapies? How can these be overcome?
Auto CAR T-cell manufacturing is challenging on many levels, which is why we and others are moving to allo manufacturing strategies. For example, auto CAR T-cell therapy is individualised, requires greater logistics and patient T cells are "beaten up" by multiple prior lines of therapy and prove less robust in many cases. These issues – along with manufacturing challenges, variable cell yields and poor phenotypic composition of product – are among the many reasons we have shifted our focus from auto to allo and why we believe the future of CAR T cells is allo.
Allo manufacturing boasts efficiencies over auto manufacturing, including:
improved CAR T-cell phenotypic composition, quality, metabolic profile, function and yield
the potential to treat up to hundreds of patients from a single manufacturing run
significantly reduced manufacturing costs per dose.
For allo CAR T cells, an additional step is required to render the healthy donor-derived product to be safe and resistant to immune rejection in the patient. Human leukocyte antigen (HLA)-mismatched donor cells are normally rejected by recipient T cells. We use our high-fidelity gene editing technology, Cas-CLOVER, to knock-out several key immune targets expressed on the surface of allo CAR T cells including TCR and beta-2-microglobulin (B2M), a critical structural component of HLA.
TCR disruption is required to prevent donor allo CAR T cells from killing patient cells or causing alloreactivity, known as graft-versus-host disease (GvHD). However, it is hypothesised that this modification is the major driver of a phenomenon coined the "allo tax". This occurs because TCR knock-out during manufacturing eliminates receptivity of the cell to anti-TCR agonist reagents, resulting in reduced expansion and fewer allo CAR T-cell doses. In contrast, our booster molecule overcomes this manufacturing dilemma and can significantly enhance the number of doses generated from a single manufacturing run.
B2M disruption is thought to shield allo CAR T cells from rejection by patient T cells (host-versus-graft or HvG), which could otherwise eliminate CAR T cells and limit therapeutic efficacy. B2M knock-out, however, may also render allo CAR T cells susceptible to killing by patient NK cells, which may now recognise CAR T cells with reduced levels of surface HLA as described by the NK cell "missing‑self" or "null" hypothesis. However, it is not yet known how extensive NK rejection will prove to be in the clinic, if at all. At Poseida, we believe by administering a B2M mixed (B2M+/B2M-) allo CAR T-cell product we can monitor the function and persistence of both populations of allo CAR T cells in the patient in real time, allowing us to leverage learnings to develop better allo CAR T-cell products.
Another challenge is developing an effective donor screening programme to establish a robust and reliable pool of preferred allo donors. This is critical for maximising manufacturability and manufacturing success as well as ensuring uninterrupted production. In addition, participation of normal healthy donors may be erratic or limited to a single or very few donations. Importantly, as a safety matter, allo CAR T-cell products must be free of dangerous adventitious agents (viruses, infections, etc) that would otherwise prevent their administration to patients. Through numerous platform advancements, process optimisations and screening methods, we believe we have overcome most of these challenges by establishing and maintaining a pool of highly manufacturable healthy donors.
Can you outline your programme into targeted solid tumours? How do these candidates work?
At Poseida, we believe that an allo product against solid tumours should, at the very least, be enriched for early memory CAR T cells, especially Tscm, as experienced from our auto P-PSMA-101 programme. These Tscm can, in theory, engraft, persist and produce wave after wave of more differentiated cells to attack the tumour. We are now leveraging these learnings in the development of P-MUC1C-ALLO1 targeting epithelial-derived solid tumours. However, solid tumours have proven more difficult than haematologic malignancies and it is possible that additional armours and technologies may be needed to further enhance allo CAR T-cell performance and/or persistence when targeting tumour cells in a highly immunosuppressive microenvironment. For example, strategies may include diminished receptivity of allo CAR T cells to checkpoint signals (PD1, Lag3, Tim3, etc), better conditioning during manufacturing or deployment of activation-induced systems where local expression of therapeutic genes may provide potency or safety advantages.
What does the future look like for cellular therapies at Poseida?
We believe the future of CAR T cells is allo. Beyond what has been mentioned above, our dual CAR T-cell approach addresses single antigen loss and heterogeneous antigen expression for better efficacy in both haematologic and solid tumours. Our first dual CAR T-cell programme is P-CD19CD20-ALLO1, now partnered with Roche and moving towards the clinic with an Investigational New Drug (IND) application expected later in 2023. With our move to "off-the-shelf" allo programmes, the hope is to treat many patients with cells from a healthy donor. Ultimately, our novel approach to allo CAR T-cell therapy is designed to improve efficacy and safety, dramatically reduce the manufacturing costs of these products and expand patient access – with the goal of bringing new and better treatments to patients in need.

Dr Devon Shedlock is Poseida's Chief Scientific Officer, Cell Therapy and was its first employee in 2015. He is a key scientific contributor in the application of the company's proprietary gene engineering platform technologies to develop novel cell therapy programmes. Before joining Poseida, he held positions as an adjunct assistant professor of pathology and laboratory medicine at the Perelman School of Medicine and associate director of the T-Cell Engineering Laboratory that is part of Carl June's group at the University of Pennsylvania where he also earned his PhD in cell and molecular biology.
Reference
Poseida Therapeutics Announces Strategic Global Collaboration with Roche Focused on Allogeneic CAR-T Cell Therapies for Hematologic Malignancies | Poseida Therapeutics, Inc. [Internet]. Poseida Therapeutics, Inc. 2022 [cited 14 September 2022]. Available from: https://investors.poseida.com/news-releases/news-release-details/poseida-therapeutics-announces-strategic-global-collaboration