Innovative leukaemia treatment with tcxpress platform
BlueSphere Bio's TCXpress platform revolutionises the isolation and functional characterisation of T-cell receptors (TCRs) with unparalleled speed and efficiency, enabling rapid identification of unique TCRs from thousands of individual T cells within days.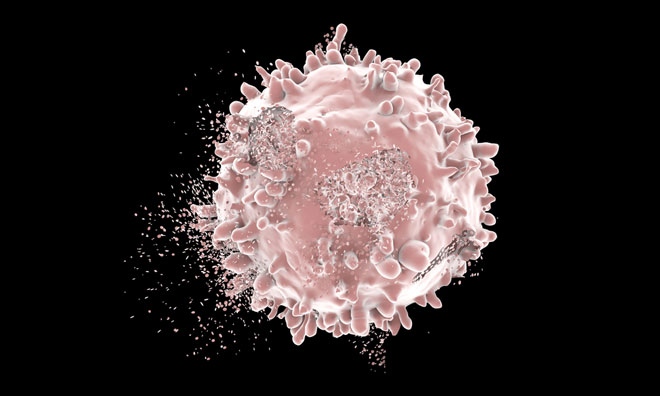 Anchored by the TCX-101 Program, the company targets high-risk leukaemia's by enhancing graft-vs.-leukaemia effects and reducing graft-vs.-host disease risks. TCX-102 complements this effort by focusing on TCRs against NPM1 gene mutations. The first clinical candidate, BSB-1001, aims to transform leukemia treatment by targeting minor histocompatibility antigen-1. This two-part therapy aligns with allogeneic hematopoietic stem cell transplantation to enhance patient outcomes. Furthermore, TCXpress's versatile TCR candidates have potential applications beyond leukemia, illustrating BlueSphere Bio's commitment to innovative oncology solutions.
How does BlueSphere Bio's TCXpress platform enable the isolation and functional characterisation of TCRs with speed and efficiency?
BlueSphere Bio's TCXpress is a unique TCR search, capture, expression, and functional screening platform that can quickly and effectively process thousands of individual T cells to identify unique T-cell receptors (TCRs) within days. The process begins by isolating individual T cells from donor samples which can include patient biopsies. From there, we clone each unique TCR directly into plasmids which we add to libraries that are available for repeated interrogation. We can then screen our library using high throughput functional assays against known and unknown tumour antigens to determine the best possible candidates for potential therapeutics. TCXpress is unique in that it keeps naturally paired TCR alpha and beta chains together throughout the process, which enables rapid and accurate functional screening.  By design, our process has eliminated the need for intermediate sequencing or gene synthesis, which greatly saves on up-front costs and time.
What is the primary focus of BlueSphere Bio's TCX-101 Program, and what therapeutic areas can the TCXpress platform be applied to in addition to oncology?
BlueSphere Bio's TCX-101 program is designed to improve survival outcomes in patients with high-risk leukaemia's, such as adult acute myeloid leukemia (AML) and a myelodysplastic dysplastic syndrome (MDS).  It does so by targeting minor histocompatibility antigens (miHAs) and is intended to enhance the graft-vs.-leukaemia (GVL) effect while simultaneously reducing the risk of graft-vs.-host disease (GVHD) in allogeneic hematopoietic stem cell transplants (alloSCT). The TCX-101 program, along with our new TCX-102 program, positions the company to make a significant impact in high-risk leukaemia's. Our TCX-102 program focuses on identifying TCRs directed against driver mutations in the NPM1  gene. NPM1 mutations are found in 30 percent of all AML patients. Together, TCX-101 and TCX-102 allow BlueSphere to have a broader reach in the high-risk leukaemia treatment space where a high unmet medical need exists. Unlike the TCX-101 program, TCX-102 is autologous and given in a non-transplant setting.  Since the platform can capture TCRs from any T cell, TCXpress platform is also being deployed in other therapeutic areas, such as solid tumours.
What is the target of BSB-1001, the first TCR-based clinical candidate generated using TCXpress, and what diseases is it being developed to treat?
BSB-1001 is the first candidate from our TCX-101 program and is in development for the treatment of AML, acute lymphocytic leukaemia (ALL), and MDS in conjunction with allogeneic hematopoietic stem cell transplantation (alloSCT). Specifically, BSB-101 targets minor histocompatibility antigen-1 (HA-1), which is expressed across hematopoietic cells. The company is on track to file an IND in Q4 of 2023.
How does BSB-1001 work in conjunction with allogeneic hematopoietic stem cell transplantation (alloSCT) for the treatment of acute myeloid leukaemia (AML), acute lymphocytic leukaemia (ALL), and myeloid dysplastic syndrome (MDS)?
BSB-1001 is designed to enhance the alloSCT's effectiveness by promoting the graft-vs.-leukaemia (GVL) effect while limiting graft-vs-host-disease. The desired effect of BSB-1001 is to destroy remaining leukaemia cells while allowing the stem cells to repopulate the patient's hematopoietic system.  BlueSphere's therapy is prepared in two parts, which will be given to the patient on the same day. The first part takes donor stem cells and separates them so that the final transplant is T cell depleted. This T cell depleted stem cell graft helps to eliminate graft-versus-host disease, as using a transplant replete with unmodified donor T cells can attack the new host, which is a main driver behind GVHD. However, the T cells are also what drive the graft-versus leukaemia effect. The second part of this therapy engineers the donor's T cells so that they no longer express their native T cell receptor, but now express a T cell receptor reactive against the haematopoietically-restricted minor histocompatibility antigen HA-1. This enables the modified T cells to only attack the host's remaining hematopoietic system, including any remaining leukaemia cells. With this transformational approach, our goal is to reduce relapse rates and improve treatment outcomes for patients suffering from high-risk blood cancers.
Can you provide more details about the potential applications of BSB-1001 and the TCX-101 Program beyond the mentioned diseases and therapeutic areas?        
While the TCX-101 and TCX-102 programs are focused on high-risk leukaemia's, our foundational discovery platform, TCXpress, has identified additional TCR candidates that could be deployed across multiple oncology indications.
Author Bio:

Keir Loiacono
Keir Loiacono brings nearly 20 years of transactional experience from the biotech, pharmaceutical and medtech industries. A patent lawyer by training, Keir represented companies of various sizes in all stages of transactions, including licensing and M&A. As a seasoned life sciences executive in the oncology sector, he has extensive experience raising capital in the public capital market space and closed numerous deals including licenses, clinical collaborations and strategic transactions with significant upfront payments. Prior to being appointed Chief Executive Officer, Keir served as Chief Business Officer for BlueSphere.
Prior to joining BlueSphere, Keir was the Vice President of Business Development and General Counsel of OncoSec Medical Inc., a public, clinical-stage oncology company. Earlier in his career, he worked as a senior director for Advaxis, Inc., a late stage, publicly traded, immuno-oncology company focused on developing, manufacturing and commercializing cancer vaccines, where he oversaw various legal, transaction and compliance functions. Before Advaxis, Mr. Loiacono was an IP attorney with Lerner David Littenberg Krumholz & Mentlik, where he focused on transactions and building patent portfolios. For nearly a decade before this role, he held various commercial roles with OraPharma, a specialty pharmaceutical company that was purchased by Johnson & Johnson. He also serves on the Board of Directors for EpiAxis Therapeutics, an early-stage drug discovery company focusing on the LSD-1 pathway.