Women in Stem with Dr Emily Leproust
This September edition of our Women in Stem series spotlights Dr Emily Leproust, CEO of Twist Bioscience. Dr Leproust began her STEM journey from a background in chemistry, eventually leading her to the forefront of DNA synthesis technology. She co-founded Twist Bioscience in 2013, now a thriving company reporting substantial revenues and a decade of innovation. Her STEM contributions include the rapid development of synthetic controls for COVID-19, advancing not only research but also sustainability. With a unique dual perspective as a chemist and business leader, she envisions precision medicine and personalised therapies as the future of healthcare.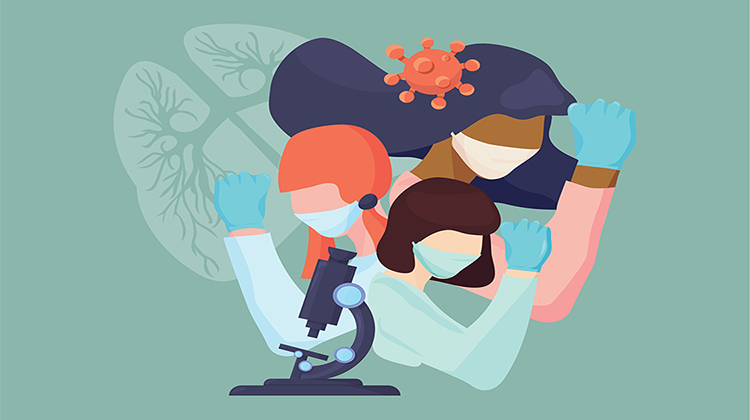 Can you tell us about your journey in the field of STEM and the challenges you encountered along the way?
I started my journey in chemistry – first as an undergraduate and then in my PhD programme at the University of Houston, where I focused on organic chemistry and nucleic acids chemistry. After that, I spent over a decade at a large instrument and genomics company working in, and then leading, research and development. After some time in that role and launching several products, I received a call from Bill Banyai and Bill Peck, or 'The Bills' as we call them, who were building a company around technology that creates DNA by 'writing' it on a silicon chip. They were looking for a co-founder and CEO with a background in synthetic biology and the business acumen to run a company; I accepted the role and Twist was founded.
I was fundraising with my two co-founders and one of the venture capital investors who we met with said that we needed a male CEO with gray hair.
Twist was officially founded in 2013. At that time synesthetic biology wasn't cool. It was right after synbio 1.0 where companies were trying to make biofuels. They had the science and the technology but not the business model. Many people weren't interested in the field and those that were familiar with it couldn't see a path to building a billion-dollar business from DNA. We heard a lot of 'no's, but I came to realise that 'no' actually means 'not yet.' Some of our best investors started as 'no's. As a CEO you have to sell the vision and I learned not to be discouraged. A decade later, we're celebrating our ten-year anniversary, have almost one thousand employees and reported $63.7 million in revenue in the third quarter of our fiscal year 2023, an annual run rate of about $255 million.
What inspired you to pursue a career in STEM, and how did you overcome any obstacles or biases you may have faced?
I grew up in France where students are tracked to certain pathways. I was very good at math, which at the time in France directed me towards STEM studies. I originally wanted to be a doctor but that's a second-tier track in France. Because I was put into the highest tier, I was automatically mapped to the engineering track. I studied industrial chemistry and earned an MS at the Lyon School of Industrial Chemistry, followed by a PhD at the University of Houston because I wanted to study in the US. When I started the PhD programme, fellow students advised me not to pick a certain advisor because she was really hard, so naturally I picked her and that's how I got into DNA synthesis.
A bias I faced early on was at the start of Twist. I was fundraising with my two co-founders and one of the venture capital investors who we met with said that we needed a male CEO with gray hair. I had no intentions of stepping down and got a lot of support from my co-founder Bill Banyai to stay in the role. Now, ten years later, I'm still CEO, we've raised over $1 billion and we're on a path to profitability with no plans to go back to the capital markets.
Could you share an example of a specific project or research that you have worked on and the impact it has had in your field?
When COVID-19 first hit, many scientists turned their research towards it to help the public health crisis. They needed reference materials for the disease in order to develop and validate diagnostic tests. For security reasons, at the time COVID-19 had to be grown in BSL-3 labs, which can be dangerous because they were handling the live virus. We knew that we had the technology and ability to develop synthetic controls for SARS-CoV-2. These are synthetic, not the live virus, so do not pose a risk of infection. Our synthetic controls are made of the entire SARS-CoV-2 sequence but broken up into pieces in a specialised way that prevents them from being assembled into a live virus. We were able to develop these rapidly to eliminate the need to grow COVID-19 in BSL-3 labs for the purpose of making a reference sample. Researchers were able to use our synthetic RNA controls as a reference to verify and validate assays. The FDA added our reference materials to their website as a critical tool for researchers and test developers.
In addition, we have built out a full line of controls including monkey pox to rapidly respond to the viral outbreak last year, respiratory controls and even cfDNA controls for cancer testing. They've been very well received by our customers and have expanded our reach into new organisations while meeting a public health need.
How has your research in STEM contributed to advancements or improvements in your field, and what potential future applications or implications do you foresee based on your work?
I'm a chemist by training and also a business leader. As CEO and co-founder of Twist Bioscience, my work and that of my team has made high throughput and scalable DNA synthesis possible. We've miniaturised the chemical process to making DNA and synthesize or 'write' DNA on a silicon chip. With our approach we can manufacture one million oligos, or short pieces of DNA, at a time, compared to 96-well plate approaches which can manufacture 96 oligos at once.
This has a positive impact not only on research but on sustainability as well. We use 99.8 percent less chemicals than 96-well plate approaches. This year we quantified our carbon footprint and found that emissions from manufacturing a single Twist gene are equivalent to driving a gas car for 0.092 miles (0.15 kilometres) compared to 96-well plate approaches that emit the equivalent of driving a gas car for 59 miles (96 kilometres).1
Since founding the company we've expanded beyond our synbio offering (genes, gene fragments, oligos, etc) to include next-generation sequencing (NGS), Twist Biopharma Solutions and DNA data storage. All four of our business units are powered by our ability to manufacture DNA at scale. Our customers use our products, tools and services to make a positive impact in health and sustainability. We have customers who use our synthetic DNA to create products, materials and chemicals in a more sustainable way. For example, naturally occurring enzymes are used to make chemical ingredients used in medications, fragrances, flavours and supplements, as well as skincare products.
Using synthetic DNA to create these enzymes is a more sustainable and less wasteful process with less negative impact on the environment.  
An area where high throughput synthetic DNA and next-generation sequencing can have a large impact is in clinical research. We're moving away from a time when everyone was prescribed the same drug and into the eras of precision medicine and personalised medicine. NGS tools can be used to 'read' DNA to identify a disease subclass and detect specific mutations. This is used in liquid biopsy and minimal residual disease (MRD) monitoring. Once a specific mutation is detected, clinicians can look through available precision medicine therapies to find one to treat the disease or develop a new personalised therapy to treat a patient's specific form of disease, such as cancer. Often, DNA technology is used in the development of new therapies. With the power of synthetic DNA, we have the potential to treat diseases like cancer as chronic illnesses.
As a woman in STEM, what unique perspectives or strengths do you believe you bring to your work?
I'm a CEO with a background in chemistry. This gives me the ability to look at things through the eye of a scientist as well as from a business angle. That dual perspective makes me a better leader for my team at Twist. When challenges arise, I can provide guidance from both a technological standpoint as well as on business challenges.
I'm a CEO with a background in chemistry. This gives me the ability to look at things through the eye of a scientist as well as from a business angle.
It also makes me better at what I do because I understand our technology. I co-founded Twist with Bill Banyai and Bill Peck who developed the technology and needed a business leader. Over the years we've taken that core technology and expanded into several businesses including NGS, Biopharma Solutions and DNA data storage. To do that, I relied on my background in chemistry to find what's possible and my experience as a business leader to ensure that we expanded into areas with significant market opportunity.
What advice would you give to young women who are considering a career in STEM but may be hesitant due to societal stereotypes or perceived challenges?
I often speak to college students about entrepreneurship and life sciences, to give them exposure to what is possible. At Twist we're exposing younger generations to career paths in life sciences through internships and participating in educational programmes like iGEM, a worldwide synthetic biology competition that includes undergraduate university students, high school students, entrepreneurs, community laboratories and 'overgraduates'. We believe in engaging with the community to demonstrate that science is cool and that there are many great careers in life sciences outside of lab research.
Beyond exposure, one thing I see with women specifically is self-doubt. For example, sometimes we post a job description with a specific candidate in mind. It happens more with women than men where if they don't meet 100 percent of the requirements, they won't apply.
The best advice I could give young women interested in pursuing a career in STEM is something that my grandmother used to tell me. She would say, "Fear doesn't make the danger go away." You have to learn to ignore the voice inside your head telling you that you can't do something and just go for it.
How have you seen the representation of women in STEM change over the years, and what further progress do you believe is needed?
It used to be that if you asked someone to draw a picture of a scientist or a CEO, they would draw a man. Now, that's starting to change. What I'd really like to see is more women profiled as top leaders and researchers, not just in articles and lists for the top women in their fields, but as the top leaders, period. My business card says "CEO", not "Female CEO". Women who are at the top of their fields should be recognised as such, not just within the context of 'top women'. 
In your opinion, what can organisations and institutions do to create a more inclusive and supportive environment for women pursuing STEM careers?
Companies should focus on culture from day one. Culture will develop whether you actively develop it or not. As a company grows, its culture propels you. I don't know everything that's going on in every corner of the business, but I trust that we have built a culture at Twist where people are able to move things forward in their roles. We've also built a culture of inclusivity and we foster and encourage diversity, equity and inclusion. We have monthly culture conversations where we invite speakers with diverse backgrounds to share their lived experiences with our employees, followed by an open discussion.
Having a diverse workforce is the right thing to do and leads to better business outcomes. When you have several people in a meeting bringing unique perspectives, it leads to better ideas and more innovation. At Twist, 41 percent of our workforce identify as women and 40 percent of our total STEM positions are held by women. These aren't just lab roles; they include manufacturing roles, which is one area where the barrier to entry can be broken down.
We participate at the federal and state government levels to help develop a guiding path for biomanufacturing curriculums for two-year degrees. This provides an alternate career path for entry into life sciences, expanding the pipeline of candidates for the growing bioeconomy.
Looking ahead, what exciting developments or advancements do you foresee in your field of STEM, and how do you envision your own research contributing to those future innovations?
We're entering the golden age of DNA writing. When I started my PhD twenty years ago it wasn't possible to make DNA longer than one hundred base pairs and that would cost you $110 per base pair. Now, DNA is longer, cheaper and faster and is getting even more so.
At Twist we offer oligos three hundred base pairs in length and are preparing to take that even further to four hundred and fifty base pairs. We sell our DNA at $0.09 per base pair for clonal genes. That low cost has brought us to the point where most researchers don't need to make their own DNA – they can afford to buy it – and buy more of it. That allows them to take more shots on goal and go through multiple build-test-learn cycles.
Twenty years ago, if you placed an order for expensive, short DNA, you would have to wait quite a while for it to get to you. Right now, our turnaround time for clonal genes is ten business days. That's fast and we're preparing to halve that time.
I mentioned that most researchers can now afford to buy DNA rather than make it themselves, but there are some researchers who don't buy DNA because they can't get it fast enough. These are scientists who are working on ground breaking research in areas like cancer, who can't wait for DNA to begin their experiments. We look forward to bringing DNA to these researchers at any scale they need – from one to many genes – in a turnaround time starting at five days. This will allow researchers to order DNA, focusing their time on their research and accelerating their build-test-learn cycles rather than the time-consuming cloning process. At Twist we have a saying, "Friends don't let friends clone." We look forward to making cloning obsolete.
Author Bio
Emily Leproust, PhD
CEO and Co-founder, Twist Bioscience
As an early pioneer in the high-throughput synthesis and sequencing of DNA, Emily is disrupting markets to enable the exponential growth of DNA-based applications including chemicals/materials, diagnostics, therapeutics, food and digital data storage. In 2020, BIO presented her with the Rosalind Franklin Award for Leadership.
Foreign Policy named her one of their 100 Leading Global Thinkers and Fast Company named her one of the Most Creative People in Business. Prior to Twist Bioscience, she held escalating positions at Agilent Technologies where she was responsible for the successful SureSelect product line that lowered the cost of sequencing and elucidated mechanisms responsible for dozens of Mendelian diseases. She also developed the Oligo Library Synthesis technology, where she initiated and led product and business development activities for the team.
Dr Leproust designed and developed multiple commercial synthesis platforms to streamline microarray manufacturing and fabrication. She serves on the Board of Directors of GeneDx and is a Co-founder of Petri, an accelerator for start-ups at the forefront of engineering and biology. She has published over 30 peer-reviewed papers – many on applications of synthetic DNA, and is the author of numerous patents. She earned her PhD in organic chemistry from University of Houston and her MSc in industrial chemistry from the Lyon School of Industrial Chemistry.