Ottoline Leyser wins 2017 FEBS EMBO Women in Science Award
This award recognises outstanding achievements of female researchers in the life sciences in the past five years.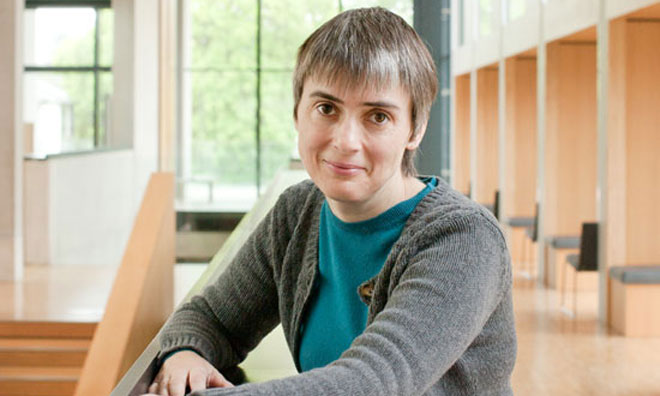 Ottoline Leyser, who is Director of the Sainsbury Laboratory at Cambridge University, receives the honour for her work on the evolutionary, developmental and biochemical mechanisms that enable plants to respond and adapt to environmental changes.
"It's a great honour to receive this award," says Ottoline Leyser
"It's both a joy and a privilege to work in research science, especially in molecular biology, where technological advances are currently opening up so many opportunities for discovery. To make the most of these opportunities science needs diversity, and initiatives like this award have an important part to play in opening the doors of the laboratory to everyone."
Plant hormones
Professor Leyser's focus on understanding how plants respond to their environment led to her discovery of the mechanism of action of the plant hormone auxin and the identification of a second group of plant hormones known as strigolactones. She has formulated a model of how the two hormone systems interact to regulate plant development.
Her current work aims to elucidate the mechanisms underlying this model. In order to tackle this question, she has added computational modelling to the more traditional array of techniques used to study this complex system.
A full CV
Ottoline Leyser is also an outstanding role model for future generations of researchers, having successfully combined academic research, parenthood and other activities.
In addition to acting on various boards and committees, dedicating time to mentoring and public outreach, and providing evidence to the UK Parliament, she is a strong advocate for women in science.
Female experience
For her book 'Mothers in Science – 64 ways to have it all' she collected stories of women who combined a successful scientific career with motherhood.
"Ottoline has shown us how to be a first-rate scientist and a first-rate parent at the same time: manage your time well to accomplish both," comments former EMBO Council Chair Detlef Weigel from the Max Planck Institute for Developmental Biology in Tübingen. "Many of the real challenges – as Ottoline doesn't tire to remind us – are not gender, but parent issues."
The 2017 FEBS | EMBO Women in Science Award of 10,000 euros will be presented to Ottoline Leyser at the FEBS Congress in 2017 in Jerusalem where she will present a plenary lecture.
Education and professional history
Ottoline Leyser received her BA and PhD in Genetics from the University of Cambridge. Following postdoctoral research at Indiana University and the University of Cambridge, she became a lecturer at the University of York in 1994. Eight years later, she was appointed as Professor. In 2011, she moved to the newly opened Sainsbury Laboratory in Cambridge, taking up the role of Associate Director, then Director. She is also the Chair of the British Society for Developmental Biology and of the Royal Society's Science Policy Advisory Group.
Ottoline Leyser's achievements have been recognised by election to EMBO, the Royal Society, the US National Academy of Sciences and the German National Academy of Sciences Leopoldina.
She received a damehood in the UK's New Year's Honours 2017, and has been awarded numerous prizes, including the Society of Experimental Biology's President's Medal, the Royal Society Rosalind Franklin Award, the International Plant Growth Substance Association's Silver Medal, and the UK Genetics Society Medal.
Nominations for the 2018 FEBS | EMBO Women in Science Award close on 1 October 2017.