Asthma & COPD
Looking forward to some of the Asthma & COPD 2018 conference highlights…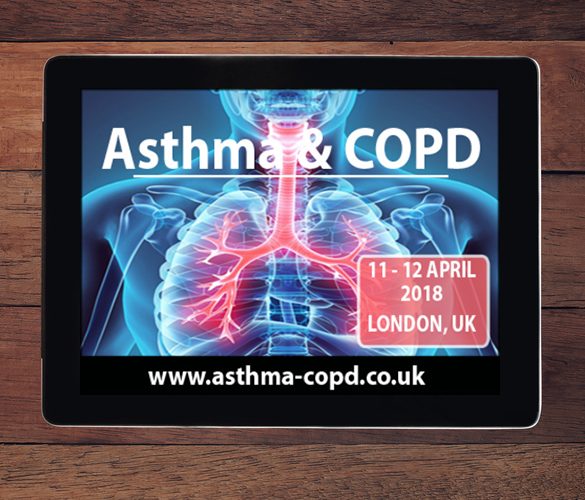 Join SMi Group in London on 11 & 12 April 2018 for the 14th annual conference on Asthma & COPD to discuss ways of improving health outcomes and revolutionising clinical trials with real world studies.
The 2018 event agenda aims to provide speakers and attendees from the likes of MHRA, AstraZeneca, MedImmune, GSK, Amgen, Janssen and Boehringer Ingelheim with a unique opportunity to benchmark with competitors, develop a heightened understanding of the inherent problems and regulatory considerations facing treatment development, and explore successful cutting-edge strategies and solutions for these problems.
Day 1
Opening Address – Novel Approaches to Management and Prevention of COPD exacerbations presented by Wisla Wedzicha from Imperial Collage London.
Spotlight Sessions – 1. Richard Costello, Professor, Royal College of Surgeons in Ireland will present: Adherence to inhaled therapy – the challenges and opportunities of digital technologies which will explore why adherence and inhaler technique are poor in both COPD and asthma, results of clinical trials to promote adherence, and predict the future of digital monitoring in R+D and clinical practice. 2. Phillip Monk's presentation, entitled 'Development of inhaled interferon beta for the treatment and/or prevention of virus-induced exacerbations of asthma and COPD' will provide delegates with further understanding of how respiratory virus infections are a major driver of exacerbations in respiratory diseases and the background rational for use of inhaled interferon beta as an antiviral in both asthma and COPD. Phillip will also review of the results of Phase I and Phase II 'proof-of-concept' trial in asthma in addition to exploring clinical development in COPD to date and in the future.
In addition – you will hear a number of other presentations covering Novel Therapeutic Approaches to COPD & Asthma and Advancements in Inhalation Device Development.
Day 2
Opening Address – Genetic Driven Drug Discovery for Respiratory Disease with Jonathan Philips from Amgen
Keynote Address – Peter Barnes from Imperial Collage London will explore New Therapeutic Targets for COPD in his address at 9.50 on Thursday.
In addition – you can hear multiple presentations on the following areas: Early Detection – Molecular Phenotyping and Biomarker Development, Real World Studies and Disease Modifying Drugs and The Emerging Role of Smooth Muscle in Asthma.
Register now to avoid disappointment, please visit www.asthma-copd.co.uk/pr09dtr