Study points to treatment approaches for advanced small-cell lung cancer
Having sequenced samples of advanced small-cell lung cancer, researchers have identified patterns linked to resistance to certain therapies.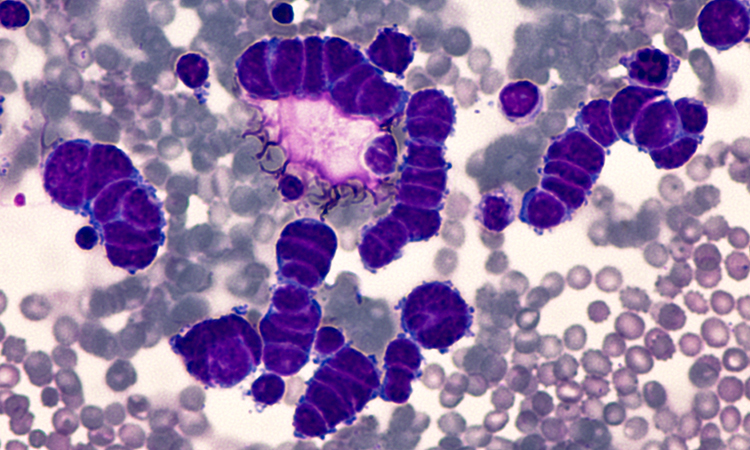 A genomic study of advanced small-cell lung cancer (SCLC) led by researchers at The Ohio State University Comprehensive Cancer Center – Arthur G James Cancer Hospital and Richard J Solove Research Institute (OSUCCC – James), US, has identified molecular patterns linked to patients developing resistance to certain therapies.
The study examined more than 60 tumours from five patients. The team used whole-exome and transcriptome sequencing and bioinformatic tools to reveal subclonal phylogeny and identify recurrent genomic alterations.
The researchers identified distinct mutational and molecular changes in four SCLC subtypes. The team say the findings provide new insights into the patterns treatment resistance and could offer new targets for the development of more effective immunotherapy and other therapies for advanced SCLC, which progresses quickly and is usually fatal.
"Advanced SCLC often does not respond as well to immune therapies that are effective in other types of lung cancer and the reasons for this are poorly understood," said principal investigator Dr Sameek Roychowdhury. "Our findings suggest that the causes of treatment resistances in advanced SCLC may be subtype-specific. They also highlight the importance of tumour genomic studies to identify the most effective therapies for these patients and to support development of new therapies for this often-fatal disease."
The researchers found that many of the molecular changes are associated with resistance to immune therapy and other treatments.
Key findings include:
Feasibility for rapid research autopsy to provide in-depth insights into resistant lung cancers
Evidence that tumours have continued to evolve after patients receive treatment. Even a single patient may have six to eight genetically distinct subtypes of their cancer – which could have implications for future drug development. 
The most common neuroendocrine SCLC subtypes showed high expression of the enzyme ARG2, a possible suppressor of immune responses
Support for the known association between the Wnt pathway and chemoresistance in advanced SCLC.
"Our results need to be validated by larger studies," said Roychowdhury, "but they suggest that subtyping SCLC patients before systemic therapy could someday play a role in drug development and therapy selection."
The study was published in JTO Clinical and Research Reports.