Possible adulticidal drugs for Onchocerca volvulus
This article discusses the need for adulticidal drugs to treat Onchocerca volvulus infections, a parasite causing onchocerciasis (river blindness), as the current treatment with ivermectin and surgery presents challenges for affected communities. It highlights research findings on the potential of analgesic medicines to target adult worms and emphasises the importance of developing new drugs to alleviate the burden of the disease and improve access to healthcare.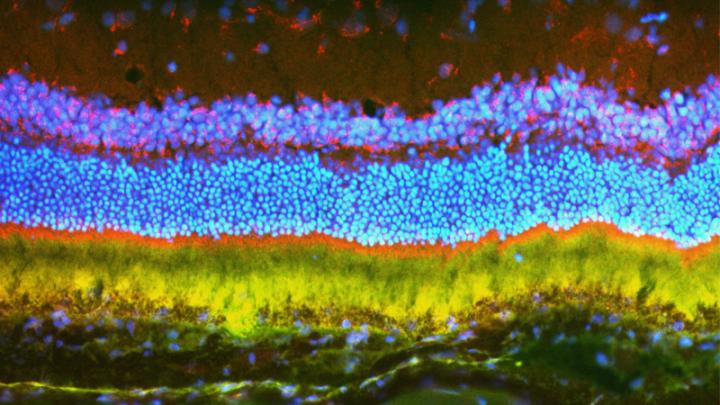 In experiments in rats and mice, two Johns Hopkins scientists -- an engineer and an ophthalmologist -- report the successful use of nanoparticles to deliver gene therapy for blinding eye disease. A uniquely engineered large molecule allows researchers to compact large bundles of therapeutic DNA to be delivered into the cells of the eye [credit: John Hopkins Medicine].
Introduction
I clearly remember an incident as a researcher, which kept happening, from my undergraduate research up till now. From endemic communities, samples including skin snips and onchocercoma were collected. The majority of people in endemic communities had at least one onchocercoma, it was discovered during the fieldworks. The stigma associated with the painless but unsightly flat bean-shaped onchocercoma has plagued these people, who are mostly low income earners.
Summary of research
The undergraduate study concentrated on the potential adulticidal effects of oral analgesics (acetaminophen, aspirin, and ibuprofen) on Onchocerca volvulus. The research showed that exposing O. volvulus worms to analgesic medicines for 24 hours significantly decreased their ability to move when compared to the control group, while prolonged exposure increased their ability to move.8 Aside motility treats, it was also observed during the study that a noticeable fraction of male worms, disintegrated after the 3rd day of exposure. The findings supported the possibility put forward by Cotton et al (2016) concerning the chance of repurposing these drugs for adulticidal treatment.8
Onchocercomas or nodules are envelopes of human subcutaneous tissues which contain adult O. volvulus. The available treatment for that is minor surgery -to remove the nodules.
It was particularly distressing because most of these people were farmers and could hardly afford to send their kids to school, let alone pay for nodule removal surgery. Ivermectin, which appears to only have microfilaricidal effects, is administered to these people in large quantities for free once or twice in a year. This is what drew my attention. 1-8 For an individual to totally rid himself or herself of O. volvulus, the nodules have to be dealt with.
As participants described their years-long battles with onchocerciasis, I was reminded of the mental anguish of having to take medication for the same illness year after year. Some report that they believe that if they don't take the medication, they may develop onchocerciasis-related severe skin diseases and may go blind (river blindness) and would prefer a treatment that does not repeat every year.
Need for adulticidal drugs
More than 99 percent of countries worldwide has been affected by this disease. Over 2 billion people live in areas with onchocerciasis transmission. In every endemic community, 30-40 percent of the people have palpable nodules. The known approaches for onchocerciasis control, for the past 12 years have been the use of ivermectin, a microfilaricidal drug with less adulticidal effects and surgical removal of palpable nodules. Yet, research has brought to lime light reports of evidences of the development of suboptimal response of O. volvulus parasites to ivermectin from studies conducted in West Africa.2,6,4  Another issue of concern is that ivermectin is purely microfilaricidal and does not kill adult worms.1 Mass control programmes have put in efforts to administer the drug for many years in order to interrupt the transmission of the disease in endemic communities.3
Also, onchocercomas house fertile adult worms which periodically mate and releasing microfilaria into the blood stream of their host. Thus, individuals with one or multiple onchocercomas are at risk of having seemingly permanent attachment with O. volvulus– unless removed via surgery.
These surgeries come with a cost and discomfort. Majority of individuals living with onchocercomas are farmers, hunters or fishermen, who could barely afford basic live necessities, not to mention surgery. Due to financial burden, most of these individuals live with the nodules and settle for the mass government annual distribution of free ivermectin for as long as they can.
Prolong use of drugs also has their own side effects on organs, which these individuals unknowingly are at risk of. Considering these factors, there is therefore the need for adulticidal drugs- which could break the cycle of ivermectin treatment and re-infection of microfilaria by adult O. volvulus.
Possible adulticidal drugs- something to ponder on
Cotton et al (2016) made an important discovery when they sequenced the entire genome of O. volvulus as well as its Wolbachia endosymbiont. They provided a big stepping stone, needed for the development of drugs. Among their investigations, they came out with sixteen genes that codes for biomolecules, structures and enzymes. They also proposed certain enzymes that could be potential targets for the development of adulticidal drugs.  These formed the foundations of our in vitro analysis of the effects of analgesics that were proposed by Cotton et al (2016), on adult O. volvulus. It was understood during my undergraduate thesis that short term exposure of worms to these selected drugs, whereas long term exposure enhances their survival. Also, the adult worms. This provides with the necessary steps need for a new drug. If these genomes that codes for the proposed enzymes and biomolecules are critical to the worms as projected by Cotton et al (2016), then thus it creates countless opportunity for adulticidal drugs to be developed.
A novel drug, will be needful at this point as it will; help promote WHO's roadmap for 2021-2030, provide much effective drugs and equal access to healthcare- as people living with onchocercomas will no longer worry about surgical removal of them. Visualise a society free from the inconvenience and pain associated with river blindness. With accessible and effective treatments, this is feasible. 
Author Bio: 

Rhoda Kwakyewaa Antwi
Rhoda Kwakyewaa Antwi holds a BSc. Hons in Biological Sciences, from the University of Energy and Natural Resources in Ghana. She was the valedictorian for the 2021 graduating class (6th congregation). She spent one year as a research assistant, focusing on NTDs and one year as a teaching assistant, focusing on Pharmacology.
She is currently a lab technician and research assistant at Hallmark Medicals, where she assists in the conducting of Assisted  Reproductive Technologies (ARTs) and drug research.
References
Abegunde, AT, Ahuja, RM and Okafor, NJ (2016) 'Doxycycline plus ivermectin versus ivermectin alone for treatment of patients with onchocerciasis', Cochrane Database of Systematic Reviews. doi: 10.1002/14651858.CD011146.pub2.
Awadzi, K et al. (2004) 'An investigation of persistent microfilaridermias despite multiple treatments with ivermectin, in two onchocerciasis-endemic foci in Ghana', Annals of Tropical Medicine & Parasitology, 98(3), pp. 231–249. doi: 10.1179/000349804225003253.
Debrah, AY et al (2015) 'Doxycycline Leads to Sterility and Enhanced Killing of Female Onchocerca volvulus Worms in an Area with Persistent Microfilaridermia after Repeated Ivermectin Treatment: A Randomized, Placebo-Controlled, Double-Blind Trial', Clinical Infectious Diseases, 61(4), pp. 517–526. doi: 10.1093/cid/civ363.
Eisenbarth, A, Achukwi, MD and Renz, A (2016) 'Ongoing transmission of Onchocera volvulus after 25 years of annual mass ivermectin treatments in the Vina Du Nord River Valley, in North Cameroon', PLoS Negl Trop Dis, 10(2).
V Noormahomed, K. Akrami, and C. Mascaró-lazcano, "Onchocerciasis, an undiagnosed disease in Mozambique: identifying research opportunities," Parasit. Vectors, pp. 1–8, 2016, doi: 10.1186/s13071-016-1468-7.
A. Cotton et al., "The genome of Onchocerca volvulus, agent of river blindness," Nat. Microbiol., vol. 2, no. November 2016, pp. 1–12, 2016, doi: 10.1038/nmicrobiol.2016.216.
Osei-Atweneboana, MY et al (2012) 'Genotypic analysis of β-tubulin in Onchocerca volvulus from communities and individuals showing poor parasitological response to ivermectin treatment', International Journal for Parasitology: Drugs and Drug Resistance, 2, pp. 20–28. doi: 10.1016/j.ijpddr.2012.01.005.
Otabil, K. B., Antwi, R. K., Nyarko, P., & Babae, T. N. (2021). In vitro analysis of the effects of acetaminophen , ibuprofen and aspirin on motility of female adult Onchocerca volvulus worms. 1–15.
World Health Organization, "Ending the neglect to attain the Sustainable Developmetn Goals – A road map for neglected tropical diseases 2021–2030," no. February 2019, pp. 1–13, 2020, [Online]. Available: http://apps.who.int/bookorders.
WHO, "Onchocerciasis Factsheet," 2020. https://www.who.int/news-room/fact470 sheets/detail/onchocerciasis (accessed Jul. 30, 2020).