Novel molecular pathway in cancer offers potential therapeutic targets
The gene MAFK is known to be induced by the TGF-β signalling pathway, which is involved in breast cancer development. Scientists reported that the MAFK protein, in turn, induced cancerous behaviours in cells by switching on the breast cancer-associated gene GPNMB. MAFK thus represents a link between TGF-β signalling and GPNMB-induced breast cancer.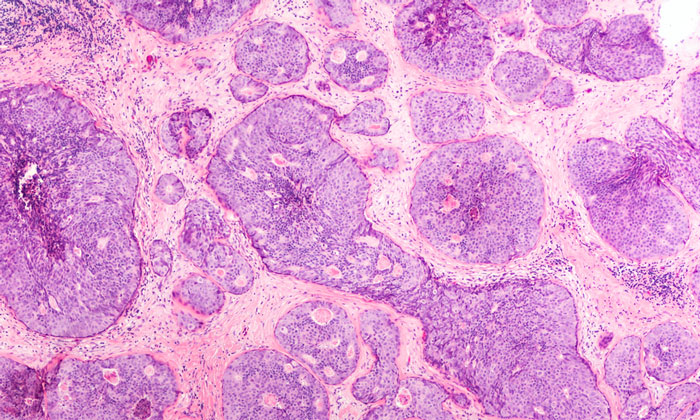 University of Tsukuba-led researchers identified this novel molecular mechanism involved in progression and metastasis in the most aggressive form of breast cancer.
Breast cancer is the most common type of cancer in women. It is divided into different types based on whether certain molecules, including receptors for hormones, are present. Triple-negative breast cancer (TNBC), which lacks three key receptors, is the most aggressive form. TNBC frequently metastasizes to other organs and has poor prognosis. Understanding the molecular mechanisms underpinning TNBC is key to developing targeted molecular therapies for the condition.
An international research team led by the University of Tsukuba (Japan) has now identified a novel molecular mechanism contributing to progression and metastasis in TNBC. Musculoaponeurotic fibrosarcoma (MAF) oncogene family protein K (MAFK) is a protein involved in switching on specific target genes.
Functional link
The team previously identified MAFK as a gene that is itself switched on by a protein called TGF-β, which is known to be involved in TNBC development. The researchers confirmed MAFK as a functional link between TGF-β and TNBC.
"The TGF-β signaling pathway is involved in TNBC progression and metastasis," corresponding author Mitsuyasu Kato says.
"However, it's also involved in beneficial processes in healthy cells, and actually helps to suppress the early stages of tumour development. Identifying molecular processes downstream of the TGF-β pathway could offer specific targets for TNBC therapy to combat progression and metastasis without interfering with the beneficial effects of TGF-β signalling."
The team found higher levels of MAFK in TNBC cells than in other breast cancer cell types.
Patient data
A survey of patient data revealed that patients with higher MAFK gene activity had poorer prognosis. Moreover, when the team interfered with the production of MAFK in breast cancer cells, the tumours the cells formed were smaller and metastasized to a lesser degree. Conversely, genetically engineering non-cancerous breast cells to make them produce MAFK caused them to behave like cancer cells.
There was already some evidence of MAFK promoting tumour development in other cancer types, but the underlying mechanism remained a mystery. By screening DNA, the team identified a gene, GPNMB, which is switched on by MAFK.
"We found that induction by MAFK of cancer-like behaviours in breast cells is dependent on GPNMB," lead author Yukari Okita says.
"GPNMB is already known to be present at high levels in the most aggressive and lethal TNBC and to contribute to cancer development; our study identifies induction by MAFK as a missing link between the TGF-β pathway and GPNMB." Shedding light on this pathway therefore offers potential new therapeutic targets for patients with TNBC.