Molecular Devices launches ImageXpress Nano System and CellReporterXpress Software
ImageXpress Nano System makes automated imaging accessible for every lab conducting cellular imaging research…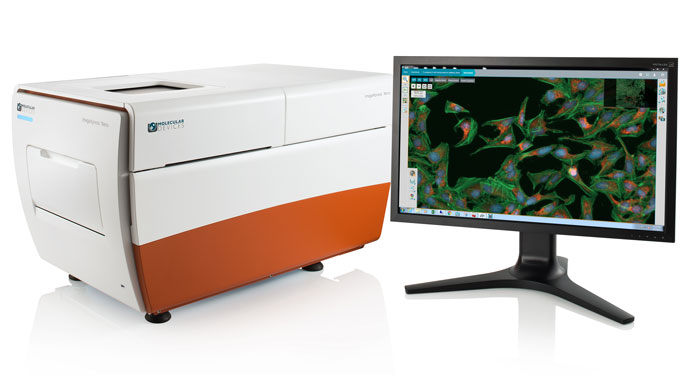 Molecular Devices, LLC, a leader in protein and cell biology technologies, announced the launch of its ImageXpress® Nano Automated Imaging System and CellReporterXpress Image Acquisition and Analysis Software. Based upon feedback from our clients and over 30 years of imaging expertise, we are excited to announce this cost effective automated imaging solution with remote acquisition and analysis capabilities.  The ImageXpress Nano system will enable researchers in Academia, Pharma and Biotech to get better data faster, build collaborations with peers – anywhere, anytime – thereby shortening project time.
"The research community has been driving increasingly towards quantitative analysis of cellular imaging data, but the tools have been out of reach both from a cost and ease-of-use perspective," said Grischa Chandy, Ph.D., Imaging Products and Applications Manager at Molecular Devices. "With the new ImageXpress Nano system and CellReporterXpress software, we are bringing imaging capabilities to labs who previously considered the need for expertise and cost a barrier to automated microscopy."
The ImageXpress Nano system allows researchers to access their system and data online with the browser-based CellReporterXpress Software. The software comes preloaded with 25 different assay modules and simple, linear workflows to get you started quickly and propel your research forward.
"We continue to invest in advancing protein and cell biology research, putting innovative tools in the hands of scientists and breaking down barriers to new discoveries," said Greg Milosevich, President at Molecular Devices.  "This system builds on the strong family of new products we've introduced in the cellular imaging space in the past two years, further demonstrating our commitment to bring tools to market that free our customers from mundane tasks and allow them to collaborate more effectively."
For more information, visit: www.moleculardevices.com/Nano