SMi's 9th annual RNA Therapeutics conference will take place in just 2 weeks!
Presenting issues and real-life examples within the RNA space, SMi welcome insights and discussions into new technologies for single-stranded RNA, epigenetics to develop first-in class drugs in oncology, patenting RNA Therapeutics and exploring the latest developments in delivery systems, including Exosomes and Nanocomplexes. Read on for your exclusive discount to attend!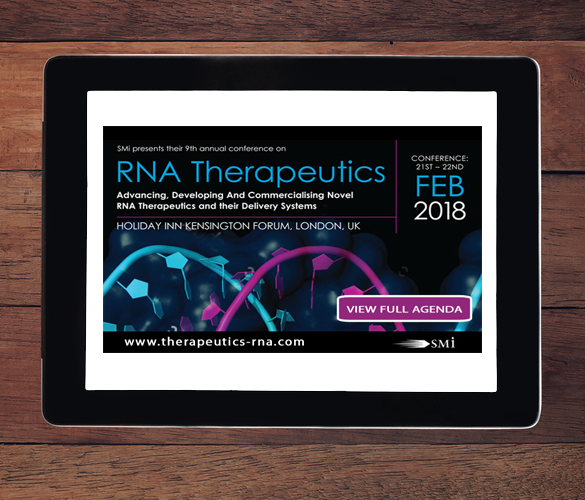 The Keynote Address on day 1 will be presented by Paul Agris, Founding Director & Professor at The RNA Institute. Gain a deeper insight into his presentation 'Engineering a Novel Antibiotic Against a Unique RNA Target that Prevents Resistance'. His session will be looking at how novel antibiotics can bind to target RNA and prevent resistance with low cytotoxicity and toxicity.
Summary of presentation:
Target selection unique to Gram positive pathogens
Screening tools for putative small molecule, RNA binding antibiotics against Gram positive pathogens and their biofilms
Target prevents emergence of resistance
Low Cytotoxicity and Toxicity
The Opening Address on day 2 will be presented by Kirsty Wydenbach, Senior Medical Assessor, Deputy Unit Manager, Clinical Trials Unit, at MHRA. Her presentation 'Gaining Regulatory Approval and Mitigating Risks during Clinical Trials' will explore how best to gain regulatory approval and clinical success through overcoming common governing pitfalls and understanding the expectations of regulators.
Summary of presentation:
Expectations of a regulator and how to report your results
Overcoming common governing pitfalls
Updates of new and upcoming regulations and how you may be affected
Why Attend?
Meet future connections face-to-face!
Not only will RNA Therapeutics highlight the newest clinical techniques and provide exposure to the latest technology and products, it will also place face to face with influential people who can help build a solid foundation in several key areas including new ocular drugs, therapies for glaucoma, clinical results from long /short term studies and more!
Shire's approach to meet unmet ophthalmic needs has been successful by developing lifitegrast, after being evaluated in four clinical trials. They have plans filing lifitegrast in multiple global markets by the end of 2017.
Benefit from interactive formats
Examine real-life case studies exploring clinical results from four 12-week efficacy and safety studies, and one long term (1-year) safety study and discovering unique properties to preservative free drugs.
As proud partners for the 9th annual RNA conference, we have been provided an exclusive £100 discount to attend! Simply use code: DTR100 at the checkout: www.therapeutics-rna.com/prdtr
SMi presents the 9th Annual Conference:
RNA Therapeutics
Date: 21st – 22nd February 2018
Location: Holiday Inn London – Kensington Forum
Website: www.therapeutics-rna.com/prdtr
Sponsored by: ChemGenes | Phion Therapeutics | Advanced Cell Diagnostics | Lypocalyx