Adaptive Designs in Clinical Trials 2018
In its 10th year, the Adaptive Designs in Clinical Trials conference returns to central London in April 2018…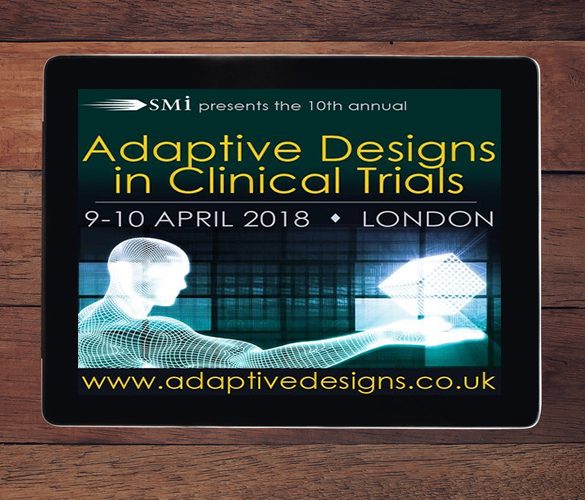 SMi Group are pleased to invite you to join us on 9-10 of April at the Copthorne Tara Hotel in Kensington.
The agenda is packed with expert speakers, informative content, senior figures and a keynote address exploring the latest innovations, regulatory updates, and strategies on how industry and clinical experts are currently using adaptive designs in their clinical trials for successful drug, medical device and therapy development. Hear from the likes of Boehringer-Ingelheim, GlaxoSmithKline, Sanofi Aventis, AstraZeneca and more, as we hold candid conversations on drug delivery, nanoparticles/nanomedicine & QbD, CNS drug delivery and therapeutic application.
Day 1
Keynote Address – Innovations in Clinical Trial Design: Lessons Learned from Adaptive Designs presented by Christine Fletcher of Amgen.
Spotlight Sessions – 1. Regulatory Perspective on Adaptive Design Trials – Beatrice Panico, Medical Assessor, MHRA and 2. Sequential Trials in the Context of Competing Risk, presented by Corine Baayen of H.Lundbeck.
Day 2
Opening Address – Platform Studies in Drug Development, James Matcham, AstraZeneca
Spotlight Sessions – 1. Regulatory Perspective for the Planning and Assessment of Umbrella and Basket Trials, Oliver Collignon. Biostatistician, European Medicines Agency and 2. Panel Discussion: Experimental and Novel Approaches in Adaptive Designs with James Matcham of AstraZeneca, Oliver Collignon from the European Medicines Agency and Ros Walley from UCB Pharma.
 Workshop – Wednesday 11 April 2018
Two interactive half-day post-conference Workshops exploring Multiple Hypothesis Testing in Group Sequential & Adaptive Clinical Trials with Christopher Jennison from University of Bath and Unlocking the Potential of Platform Trials with Tom Parke of Berry Consulting.
You can view the latest agenda online, as well as secure your place. Please visit, www.adaptivedesigns.co.uk/pr03.

Sponsorship – Please contact: Alia Malick on +44 (0) 7827 6168 or [email protected] for more details.
Registration – Register online at: www.adaptivedesigns.co.uk/pr03