ELRIG UK hosts inaugural Discovery Technologies event
ELRIG (European Laboratory Research & Innovation Group) has announced its first Discovery Technologies meeting, which will take place at Alderley Park, located near Macclesfield in Cheshire.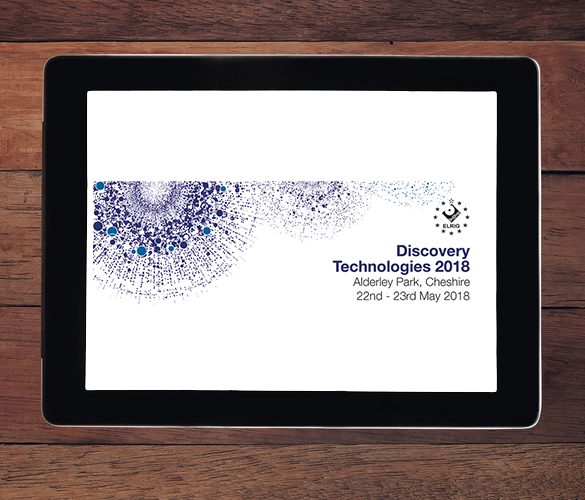 This exciting new event will focus on the application of novel and emerging technologies that are reshaping the drug discovery paradigm. The meeting will consist of 2 parallel sessions: Mass Spectrometry and Organ on a Chip and is the perfect place for scientists from industry, biotech and academia to meet and discuss advances and case studies in these two rapid evolving research areas. This year's event expects around 300 delegates, 15 exhibiting companies and poster exhibition.
The plenary keynote speaker for this year is Professor John Wikswo from Vanderbilt University who will present, "The union of organs-on-chips and mass spectrometric multi-omics: a technological convergence that will advance drug discovery." In addition to the outstanding speaker program, there will be the opportunity to take part in one of two pre-conference workshops to be held on the afternoon of Tuesday 22 May. CN Bio & Nortis will host an Organ on a Chip Workshop, and Bruker will host a Mass Spectrometry-focussed workshop.
Through collaborations with experts from industry and academia along with the backing of some global pharmaceutical organisations, ELRIG continues to provide free-to-attend meetings which are accessible to all.
Full details of the event can be found at https://elrig.org/portfolio/dt2018/.
 "There have been many changes in the industry and ELRIG are always adapting to meet the needs of our members. This exciting new event aims to showcase ground breaking technologies which will revolutionise early drug discovery," said ELRIG General Manager Sanj Kumar.  He continues, "While the science and vision of ELRIG have evolved, the underpinning the values of the organisation have not, and we continually adapt to meet the needs of our members whilst maintaining integrity."
To register, submit a poster abstract or book an exhibition stand, please visit the Discovery Technologies 2018 page of the ELRIG website at https://elrig.org/portfolio/dt2018/.
Follow ELRIG on Twitter (@ELRIG_UK) and LinkedIn (www.linkedin.com/groups/ELRIG-2951734) for updates on this event, and more. The Twitter hashtag for Drug Discovery 2018 is #ELRIGDT18
Related organisations
ELRIG