'Inconsistent' use of antibodies found in laboratory experiments
Researchers say they have affirmed inconsistencies in the use of a common laboratory procedure called immunohistochemical staining.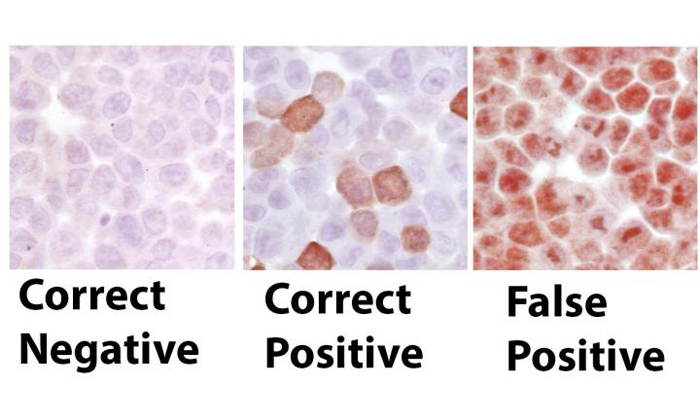 Example of IHC staining. Cells labeled 'Correct Negative' are cancer cells that show correctly that they are negatively stained (brown) because they do not have the gene for the target of the antibody (anti-AKT1). The middle cells show 'Correct Positive' IHC staining because they have the gene encoding AKT1 inserted back into a subset of the cells. The cells on the right were incorrectly stained ('False Positive') using a flawed IHC approach. These cells on the right were stained with the same antibody used in the other two images (left and middle), but with a slightly different procedure. (Credit: Ibrahim Kulac, M.D., Johns Hopkins University School of Medicine)
These variations mean, the scientists from Johns Hopkins Kimmel Center say, many laboratory experiments are unreliable.
"Overall, in our experience as journal editors and manuscript reviewers carefully reviewing at least 1,000 manuscripts we estimate, at a minimum, half of them contained potentially incorrect immunohistochemical (IHC) staining results due to lack of best practice antibody validation," said Angelo De Marzo, M.D., Ph.D., professor of pathology, urology and oncology and associate director of cancer research pathology for the Johns Hopkins Kimmel Cancer Center.
They found that variations were most commonly caused by poor quality and/or lack of proper validation of quality of some antibodies provided by vendors prior to commercialisation, and by human error. De Marzo and colleagues are calling for the adoption of industry-wide standards for IHC practice that focuses on validation, especially when it comes to human tissue research. 
At the root of the problem, the researchers say, is a misunderstanding by many investigators and pathologists about the two general classes of antibodies used in IHC staining – clinical grade and research grade. 
"Results from inaccurate IHC tests published in the scientific literature lead to biased results and call into question the validity of those tests in many research laboratories. Much of our research depends on this even if is not clinical research. Although, it won't kill a person if a mouse experiment doesn't turn out okay, there is still a cost. It has been estimated that over $2 billion per year is spent on research antibodies and a significant fraction of this amount, as well as researcher time, gets wasted on unreliable results," continued De Marzo. "The problem is so striking it is considered an important aspect of a larger overall problem in biomedical sciences, covered extensively in the press recently, and dubbed the 'reproducibility crisis'."
In their review, the authors provide examples of antibody validations they performed, and they direct readers to a growing wealth of literature and online resources, including a novel antibody validation initiative and scoring system being developed, that can help investigators seeking to validate IHC antibodies and assays.
Their findings were outlined in a special issue of the Asian Journal of Urology.