Key takeaways from the AACR Meeting 2022
Drug Target Review's Editor Victoria Rees brings you the highlights from the American Association for Cancer Research Meeting 2022.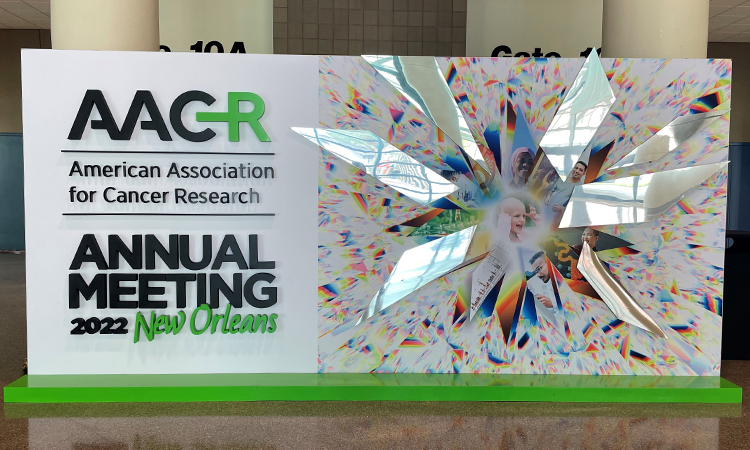 Attending this year's American Association of Cancer Research (AACR) Meeting in New Orleans, Drug Target Review's Editor Victoria Rees heard from Dr Margaret Foti, CEO of the AACR, at the Opening Ceremony.
"Despite the challenges, this is an incredibly exciting, innovative and hopeful time in cancer research," Foti highlighted. "As reflected in the theme of this year's meeting, decoding cancer complexity, integrating science, transforming patient outcomes – the pioneering strides you and your colleagues are making across the spectrum of cancer science are driving transformative progress against the disease at an exhilarating pace."
Foti also commented on US President Joe Biden's Cancer Moonshot mission, initiated in 2016 and reignited on 2 February 2022. The project has the aim of reducing the cancer death rate by at least 50 percent over the next 25 years and improving the experience of people and their families living with and surviving cancer.
"Accelerating breakthroughs in cancer research is our mission and our purpose and we are made stronger by working together against this unrelenting foe called cancer," Foti said.  
On a similar theme, we also heard from Dr Norman "Ned" Sharpless, Director of the US National Cancer Institute (NCI), who will step down on 29 April 2022 to be succeeded by NCI Principal Deputy Director Dr Douglas Lowy.
Sharpless and Lowry both also highlighted the importance of the Cancer Moonshot mission, emphasising that this renewed project will enable scientists to bring the best treatments to patients.
"I think a 50 percent reduction over the next 25 years is the least we can do," said Sharpless. "However, Cancer Moonshots are very expensive and they have to be supported. The goals that we have and that progress we are aiming for will require future investment, both in investigator initiated-basic science and the technologies that we need to translate better."
Lowry commented further on the funding for the Cancer Moonshot, saying that the NCI has "benefited enormously from the long-term strong support from Congress – it has been bipartisan and I anticipate that that will continue. There is also every possibility that there might be some specific funding that will go to NCI."
At AACR, we also heard from Dr Frederic Zecri, Global Head Oncology and Immuno-oncology Chemistry at Novartis Institutes for Biomedical Research (NIBR), who spoke during the session on Challenging Drug Targets. Zecri outlined findings from Novartis researchers, discussing structure-guided allostery for intractable targets and to overcome resistance in cancer. "At the time this work was done, KRAS was still an undruggable target… SHP2 is sitting at the top of the pathway and it is a very powerful agent for any KRAS modality," he noted.  
Other fascinating talks included "A contextual approach to cancer neoantigen vaccines" by Dr Ugar Sahin, Chief Executive Officer and Co-Founder at BioNTech and Professor for Translational Oncology and Immunology at University Medical Center Mainz, Germany and "Deregulated hematopoietic stem cell behaviour in myeloid malignancies" by Dr Emmanuelle Passegué, Director, Columbia Stem Cell Initiative, along with many more.
It was fantastic to hear from so many scientists and experts at the forefront of cancer research. From this year's AACR meeting, it was clear that key progress has been seen recently in both the lab and the clinic, providing promise to patients. However, the key takeaway is that the fight is not over yet; more to research is yet to be done in the fight against cancer.