In vitro platforms for de-risking nephrotoxicity during drug development
If not correctly assessed, drug candidates with undesirable safety issues may progress through clinical development, resulting in costly failures later in the development process. Given that many drugs fail in clinical trials due to nephrotoxicity, this article describes the importance of understanding kidney transporter function in drug development, how current cell line and animal models are insufficient and how suitable pre-clinical testing with human tissue models can reduce this risk.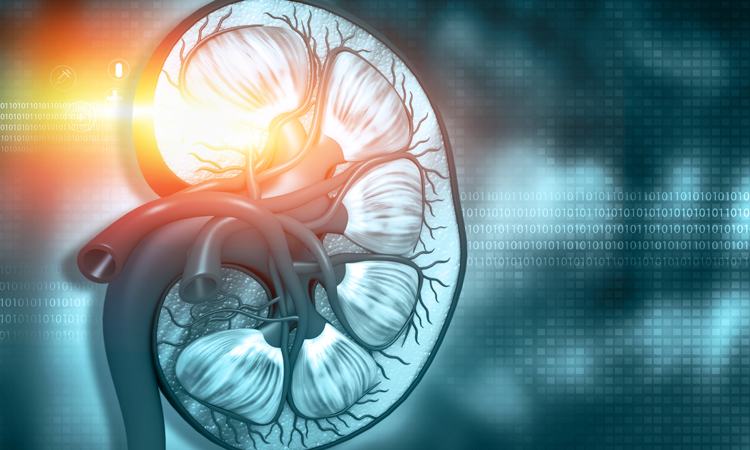 THE KIDNEY is a significant organ for the clearance of drugs from the body: 32 percent of the top 200 prescribed drugs undergo renal elimination. Clearance involves two physiological processes: glomerular filtration and tubular modification of the filtrate by tubular secretion and reabsorption. Glomerular filtration is a passive process in which drugs or metabolites that are not bound to proteins present in blood plasma (free fraction) diffuse from the blood into the primary urine. Tubular secretion and reabsorption are active processes mediated by solute carriers and ATP-binding cassette transporters, primarily in the proximal tubular cells of the renal cortex.
The main influx transporters such as organic anion transporters 1 and 3 (OAT1 and OAT3) and organic cation transporter 2 (OCT2) are located in the basolateral membrane, whereas the major efflux transporters such as multidrug and toxin extrusion (MATE1), multidrug associated resistance protein (MRP) and P-glycoprotein (P-gp) are located in the apical membrane of the proximal tubules (Figure 1).
While renal transporters generally enhance renal elimination, certain transporters such as OAT4, PEPT2 and SGLT2 and the receptor-mediated endocytic complex megalin-cubulin located on the apical side of the proximal tubule cells facilitate reabsorption of some drugs. The combined action of apical and basolateral transporters determines the rate at which drugs move from the blood into the urine or from urine to blood.1
Tubular secretion and nephrotoxicity
Because tubular secretion is essentially a transporter mediated process, anything that interferes with it can affect the half-life of a drug (if the interaction occurs at the basolateral uptake transporter) or can cause nephrotoxicity (if the interaction occurs at the apical transporter). Drug-drug interactions are widespread and are often a direct result of interference with tubular secretion. For example, cimetidine and pyrimethamine reduce the renal clearance of metformin. Cimetidine inhibits OCT2 – and hence the uptake of metformin by proximal tubule cells – whereas pyrimethamine inhibits MATE1 or MATE1/2-K and hence efflux from the cells.2 In this example, cimetidine and pyrimethamine would be contraindicated in diabetic patients taking metformin.