Fluorescent imaging with cetuximab safely used in glioblastoma patients
Antibody-based infrared fluorescent imaging can specifically distinguish cancer from normal tissue in patients with glioblastoma…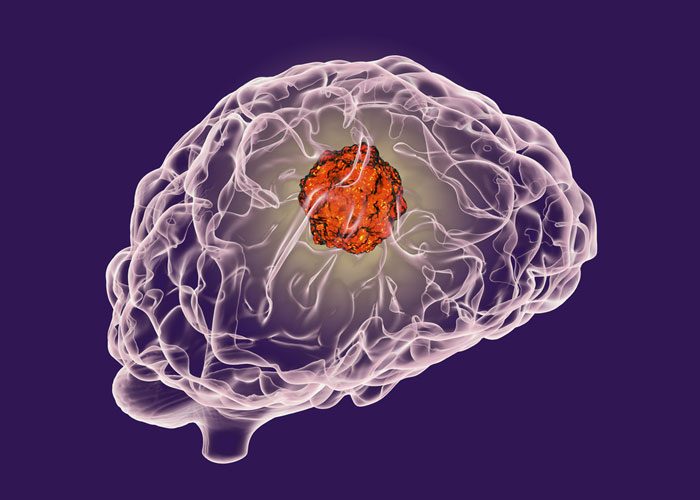 In its first test in humans, the antibody cetuximab proved to be safe and feasible for infrared fluorescent imaging of tumours during brain surgery.
The study shows that the antibody-based infrared fluorescent imaging can specifically distinguish cancer from normal tissue in patients with glioblastoma. 
Infrared fluorescent imaging is often used to map lymphatic and blood flow in patients during surgery. In this setting, use of the fluorescent molecule attached to an antibody can specifically target cancer cells and makes them visible when illuminated by a camera during an operation.
Cetuximab is a monoclonal antibody that binds to epidermal growth factor receptor (EGFR), a protein that appears on the surfaces of cancer cells at abnormally high levels. Because of its ability to inhibit EGFR, the antibody has been approved by the U.S. Food and Drug Administration for the treatment of head and neck primary cancer and colorectal metastases.
For the current study, investigators from Stanford University School of Medicine, Stanford, Calif., tested the ability of infrared fluorescent imaging using fluorescently labelled cetuximab to identify cancerous tissue in three patients undergoing an operation to remove a glioblastoma tumour, the most common malignant brain tumour in adults.
It is an aggressive and often fatal brain tumour. Maximal surgical resection of glioblastoma is complicated by the diffuse, invasive nature of the tumours.
"The tumour strays into normal brain tissue, and its edges are incredibly difficult to see. If surgeons can specifically identify the extent of the tumours, they may be able to remove more cancerous tissue, and this more complete resection of tumours tends to correlate with better progression-free survival," said Dr Eben L Rosenthal, FACS, principal author of the study and medical director of the Stanford Cancer Center.
In the study, three patients with glioblastoma were injected with either a high dose (100 mg) or low dose (50 mg) of cetuximab-IRDye800 two to five days before surgery. Intra-operative imaging using novel near-infrared cameras could clearly identify a tumour relative to the normal brain tissue.
Our study shows that this antibody not only passes through a tumour and -disrupts blood-brain barrier, it also highly specifically binds to a brain tumour.
Resected tumour and normal tissue were also imaged prior to pathological processing – so that fluorescence intensity could be correlated directly with histology.
Tumor-to-background ratios were calculated based on the difference in intensity of fluorescence between a tumour and normal tissue.
The technique was highly specific for detecting tumour tissue in patients; normal tissue produced minimal fluorescence. Tumor-to-background ratios were nearly three times higher in tumour tissue than in a normal brain. The 100 mg dose of cetuximab dye produced significantly higher tumour-to-background fluorescence than the lower dose, and it allowed detection of as small as 10 mg of tumour tissue in the closed setting.
"The study is interesting for two reasons. First, we show that the antibodies can be used for imaging the brain. It remains controversial whether antibodies can penetrate the brain because of the blood-brain barrier. Our study shows that this antibody not only passes through a tumour and -disrupts blood-brain barrier, it also highly specifically binds to brain tumour. Secondly, it represents an opportunity for surgeons to visualise brain tumours more clearly while they are operating," Dr Rosenthal explained.
The study also makes use of an antibody and an operative imaging technique that are already being used widely in patients. The antibody cetuximab has been approved for treating patients with cancer. The imaging devices in the study are standard equipment in operating rooms.
"In this study, we are taking something that has been used in thousands of patients safely and effectively, rather than creating a new probe that has potential unknown toxicity and is more expensive to bring through toxicity studies. We also repurpose imaging devices that are common in the operating room. The imaging technique we describe is therefore highly cost-effective, and it's safer than introducing a new agent for imaging," Dr Rosenthal said.