Sir Peter Ratcliffe awarded joint Nobel Prize for Physiology or Medicine
The researcher Sir Peter Ratcliffe and two others have been jointly awarded the Nobel Prize for Physiology or Medicine 2019.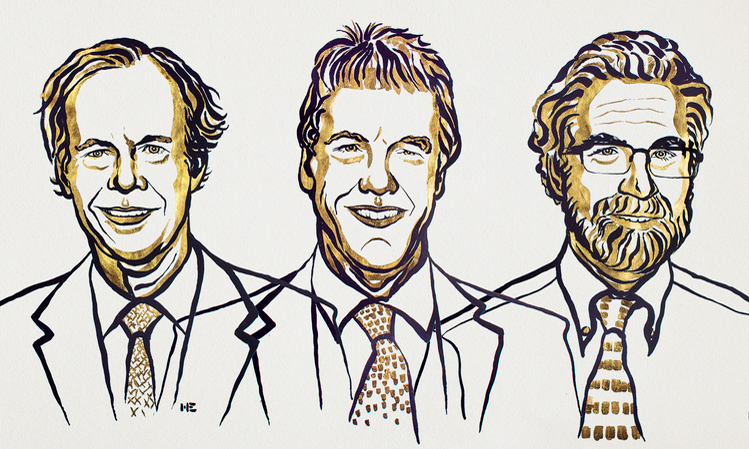 Illustration: Niklas Elmehed (© Nobel Media).
The Nobel Prize for Physiology or Medicine 2019 has been awarded to Sir Peter Ratcliffe, jointly with William Kaelin Jr and Gregg Semenza. The prize is for their findings of how cells sense and adapt to changing oxygen availability.
The researchers identified the molecular machinery that regulates the activity of genes in this circumstance.
The findings established an understanding of how oxygen levels impact cellular metabolism and physiological function. Their discoveries have also provided promising strategies for combatting anaemia, cancer and other diseases.
Sir Peter is Director of Clinical Research at the Francis Crick Institute, funded by the Medical Research Council (MRC) and Director of the Target Discovery Institute at Oxford University. His research has received ongoing funding from the MRC and the Biotechnology and Biological Sciences Research Council.
His work was primarily undertaken at the MRC Weatherall Institute of Molecular Medicine at the University of Oxford.
Professor Sir Mark Walport, UK Research and Innovation Chief Executive, said: "Very many congratulations to Sir Peter Ratcliffe for the award of the Nobel Prize for his part in the discovery of the mechanisms for sensing oxygen levels in tissues in the human body – a medically important discovery that amply deserves this recognition."