Antibody cocktail shown to neutralise SARS-CoV-2 variants of concern
A new antibody cocktail made from three mAbs neutralised several SARS-CoV-2 variants in pre-clinical studies.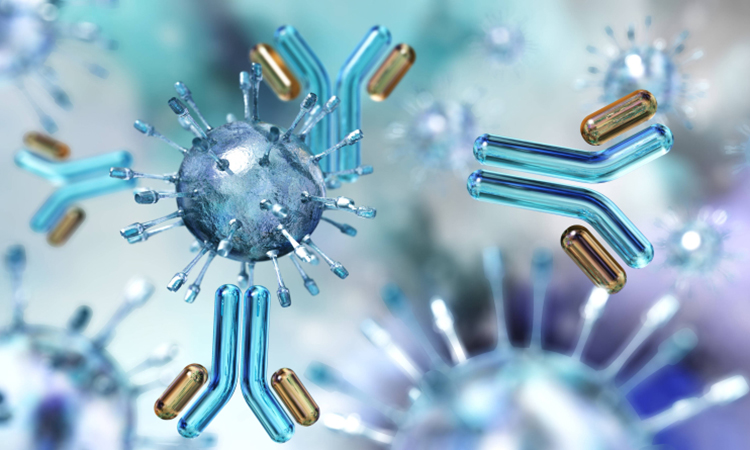 A new antibody cocktail has been shown to neutralise the UK, Brazil, South Africa and California, US, SARS-CoV-2 variants in pre-clinical tests. The antibody combination was developed by Immunome, Inc.
The company says that the antibody cocktail, called IMM-BCP-01, contains three monoclonal antibodies (mAbs) that bind to non-overlapping regions of the SARS-CoV-2 Spike (S) protein with picomolar affinity. The antibodies exhibit combinatorial effects in vitro against multiple SARS-CoV-2 variants, including those exhibiting resistance to current antibody therapeutics and vaccines.  
In Syrian hamsters infected with live SARS-CoV-2, IMM-BCP-01 reduced lung viral load as a treatment and prophylaxis. Live virus studies demonstrated full neutralisation by IMM-BCP-01 of "variants of concern" South Africa (B.1.351) and UK (B.1.1.7), as well as the US and European reference strains USA-WA1/2020 and BavPat1/2020.
Pseudovirus studies demonstrated full neutralisation by IMM-BCP-01 of the Brazil (P.1) and California (B.1.429, which also contains B.1.427 mutations) strains.
Mechanistic studies demonstrated the selected antibodies bind not only to SARS-CoV-2 S proteins with complex mutations, but also to those with several individual mutations, including E484Q and L452R, which are associated with the recently emerged double mutant (B.1.617, or the India variant).
The company also report that two of the three selected antibodies bind to areas of the S protein that may be resistant to evolutionary change. 
"Put simply, the pre-clinical results we have shared today bear witness to our discovery engine's ability to rapidly identify powerful and rare antibodies for inclusion in our IMM-BCP-01 antibody cocktail," said Dr Purnanand Sarma, President and Chief Executive Officer of Immunome. "The strength of our data gives us the confidence to continue advancing IMM-BCP-01 towards an Investigation New Drug (IND) filing. We believe that a combination of antibodies targeting epitopes conserved across known variants is an important and potentially necessary aspect of addressing the mutational drift currently seen with SARS-CoV-2."