Thriving biotech: three stocks building momentum
In this article, Dmytro Spilka explores three promising biotechs that have seen growth in the last year and why they may continue to garner interest.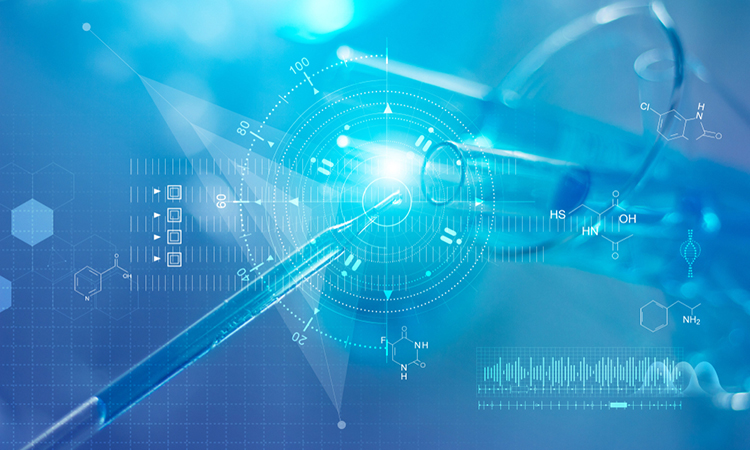 It has been an unforgettable 18 months for biotech stock performance. Following the onset of the COVID-19 pandemic and the acceleration of digital transformation, health-focused technology firms have outperformed many markets. Now, it is possible to understand which stocks appear to be continuing their recent momentum. 
It is worth noting that the performance of biotechs has not been entirely free of setbacks1 in recent months. September 2021 saw biotech stocks endure the news that pharmaceutical giant Biogen gave a disappointing outlook for near-term sales of its Alzheimer's disease treatment Aduhelm. Further disruption was forecast following US government plans to tighten regulations on drug prices. 
However, in the wake of recent pullbacks, it may have helped to present investors with a strong entry point in which to grow their respective portfolios. 
As the data above shows, biotech ETFs have generally outperformed the S&P 500, with some, such as iShares Genomics, recording almost twice as much growth between mid-2019 and mid-2021. 
"Some scientists believe that biotechnology is in its "golden age'," explained Maxim Manturov, head of investment research at Freedom Finance Europe. "Scientific advancements are paving the path for new strategies to treat and prevent diseases that were previously merely a theory. It also creates a plethora of investment options, as many biotech stocks are quite appealing… Business services can leverage technology to have more meaningful and convenient interactions with doctors and patients. Physicians may be more interested in trying new products if they are promoted more appropriately and patients may have more confidence in pharmaceuticals as a result of increased engagement. The benefits of enhancing organisational efficiency and adopting a customer-centric strategy are obvious and they may be a win-win situation for all parties concerned."
As biotech continues to ride a wave of digital transformation, let us take a closer look at three stocks that may offer plenty of growth potential for investors: 
Aurinia Pharmaceuticals (NASDAQ: AUPH)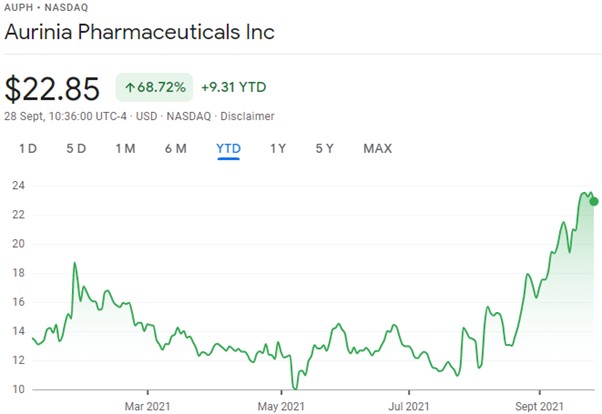 As we can see from its 2021 performance so far, Aurinia Pharmaceuticals has already undergone a blistering end to the summer months. The company's core value proposition is a lupus nephritis (LN) medication called Lupkynis. The drug has a market of around 100,000 US adults who suffer from LN, which causes kidney inflammation. 
Interestingly, Lupkynis would only need to access around 16 percent of this target market in the US to achieve blockbuster status – making it a stock with plenty of room to grow. Lupkynis is currently on course to surpass $1 billion in sales by 2024 and there is certainly a chance that the drug may haul around $1.9 billion by the middle of the decade – even when factoring in rival substances like GlaxoSmithKline's LN drug, Benlysta. 
With the commercial launch of Lupkynis only just getting started, we may see Aurinia's stock climb further over the coming months, with the longer-term success of Lupkynis paving the way for share prices to prospectively double over the course of the coming two to three years.3 
Article: Healthcare demands drive domestic UK biotech investment
CRISPR Therapeutics (NASDAQ: CRSP)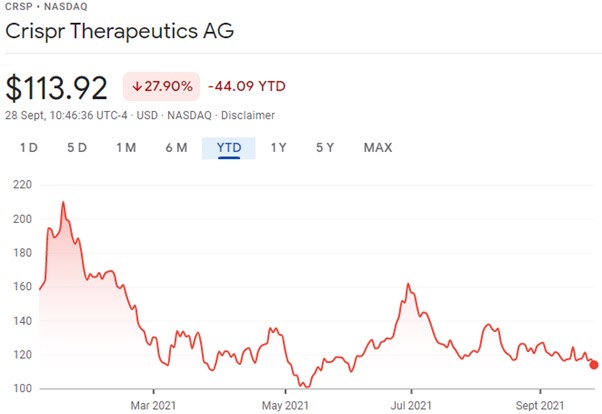 CRISPR Therapeutics is a biotech firm based in Switzerland. Although the company's stock has endured pullbacks throughout the late winter and summer, it is currently trading at some 724.18 percent of its launch price in November 2016. 
The company is a gene-editing firm that is devoted to creating transformative gene-based medicines for severe diseases using its proprietary CRISPR-Cas9 platform – which helps the company to make accurate and directed changes to genomic DNA. 
CRISPR Therapeutics has built itself a widespread portfolio of therapeutic programmes across a range of disease areas, including oncology, regenerative medicine and rare diseases. In July, the company offered a business update4 for its pipelines and reported its Q2 financial results. Most notably, CRISPR received Orphan Drug Designation (ODD) for Phase I clinical trials of its CTX130 candidate for the treatment of T-cell lymphoma. 
Fiscally, CRISPR also ended Q2 with $2.59 billion in cash, cash equivalents and marketable securities – paving the way for plenty of growth potential to end the year.
Ocugen Inc (NASDAQ: OCGN)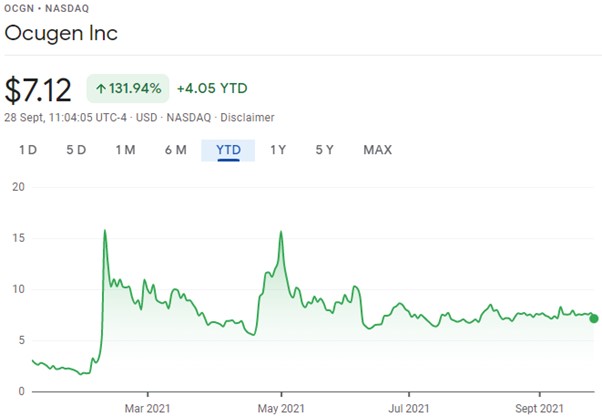 Ocugen is a biotech company that works on therapies for blindness and other retinal diseases. Although the company's net loss broadened as research and development costs rose in comparison to the year prior, Ocugen's stock has enjoyed some 131.94 percent growth in the calendar year of 2021. 
The company has posted no revenue, but its partner company, Bharat Biotech of India, posted positive Phase III clinical trial results for COVAXIN – the company's own COVID-19 vaccine. In the trials, the drug showed 77.8 percent efficacy against the disease, with 65.2 percent efficacy against the ongoing Delta variant. As a result, Investopedia has identified OCGN as a stock with a great level of prospective momentum ahead for investors to tap into.5 
Conclusion
Although the development of COVID-19 vaccines generated significant volumes of investor interest in biotech companies, the subsequent acceleration of digital transformation has helped to sustain the industry and introduce us to a future of more advanced healthcare. With this in mind, it is reasonable to expect more biotech stocks to carry on building momentum in the wake of the pandemic. 
About the author
Dmytro Spilka is a technology and finance writer based in London, UK. Dmytro is the founder of Solvid and Pridicto. His work has been published in Investing.com, IBM, Investment Week, FXStreet, Entrepreneur and FXEmpire.
References