Drug Target Review – Issue #4 2017
Issue 4 of Drug Target Review looks at artificial intelligence in drug discovery and features In-Depth Focuses on Screening, Hit to Lead and Informatics.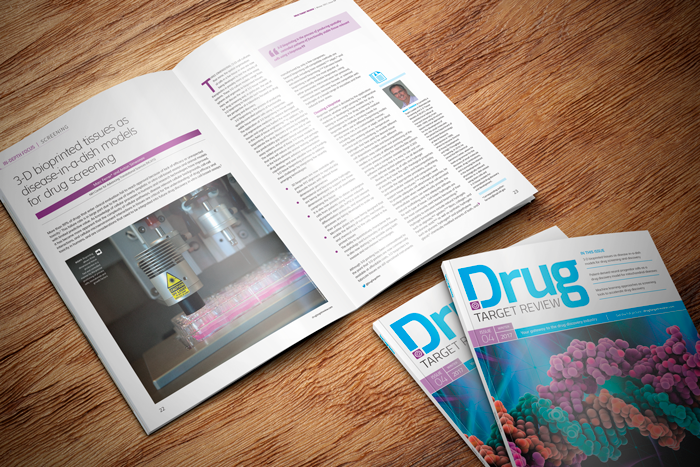 FOREWORD: Artificial intelligence in drug discover: how long before we see the real impact?
Richard Goodwin, Principal Scientist, AstraZeneca
APPLICATION NOTE: Performing NanoBRET with the Varioskan LUX multimode reader
Thermo Fisher Scientific
IN-DEPTH FOCUS: Screening
APPLICATION NOTE: Screening for inhibitors of PD-1 and PD-L1 binding with AlphaLISA technology
PerkinElmer
APPLICATION NOTE: Next-generation sequencing sample preparation on the Thermo Scientific KingFisher platform
Thermo Fisher Scientific
PROTEOMICS: Proteogenomics research – on the frontier of precision medicine
Alicia Landeira, Rodrigo Garcia-Valiente, Maria Gonzalez-Gonzalez, Javier Carabias, Jonatan García, Rafael Góngora, Paula Diez and Manuel Fuentes, University of Salamanca
IN-DEPTH FOCUS: Hit to lead
METABOLIC DISEASE: Patient-derived neural progenitor cells as a drug discovery model for mitochondrial diseases
Carmen Lorenz, Max Delbrück Center for Molecular Medicine (MDC) and Berlin Institute of Health (BIH); Gizem Inak and Alessandro Prigione, Max Delbrück Center for Molecular Medicine (MDC)
IN-DEPTH FOCUS: Informatics
The digital version of issue #4 2017 is restricted to logged-in members. Login or subscribe free to read it.