Antibodies In-Depth Focus 2020
Included in this in-depth focus are articles on antibody therapeutics to treat COVID-19, how AAV antibodies can be neutralised, the role of antibodies in cancer therapy and bispecific antibodies for immuno-oncology drugs.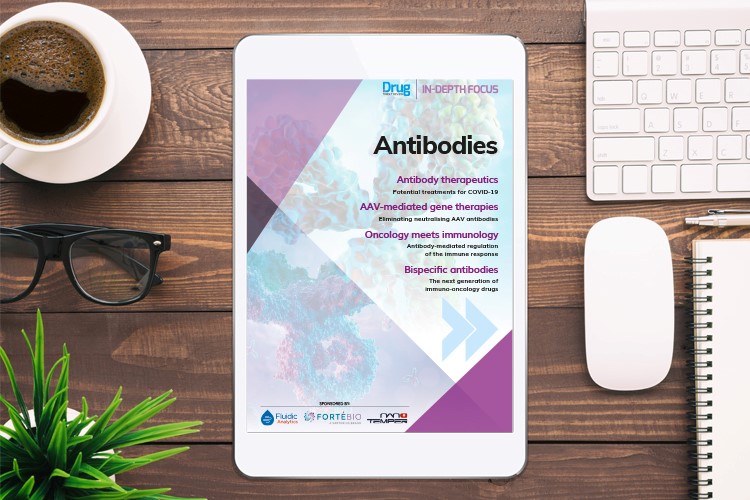 In this in-depth focus: 
Antibody therapeutics for COVID-19
In 2019, the SARS-CoV-2 coronavirus sparked a global pandemic that is likely to continue into 2021. Effective therapeutics that treat the symptoms of the disease and prevent or treat the underlying viral infection are critically required. To meet this need, the global biopharmaceutical industry is evaluating over 50 monoclonal antibody (mAb) therapeutics developed for other diseases that may treat COVID-19 symptoms and has identified, optimised and initiated clinical studies of mAbs that target the virus. If clinical study results are positive, emergency use authorisations may be granted for broad use of these targeted agents. Here, Janice Reichert, Executive Director of The Antibody Society, provides an overview of potential antibody therapeutics for COVID-19.
Defusing antibody neutralisers in AAV gene therapy
Adeno-associated virus (AAV)-mediated gene therapies allow for the treatment of a growing number of diseases; however, the presence of neutralising antibodies can lead to limitations of this technology, particularly for patients who may be excluded due to these pre-existing or developing neutralising antibodies. Recently, a study was published in Nature Medicine showing the elimination of neutralising AAV antibodies and restoration of gene therapy efficacy in controlled in vivo laboratory tests of animal models. Nikki Withers spoke to one of the study's lead authors, Federico Mingozzi, to discuss the importance of their findings.
Oncology meets immunology – antibody-mediated regulation of the immune response
In this article, Aparajita Dubey discusses the role of antibodies in regulating the immune system and highlights key features that need to be considered for drug development and how this can be applied to cancer therapy.
Bispecific antibodies: the next generation of immuno-oncology drugs
Taylor B Guo, Chief Scientific Officer at I-Mab, describes the potential benefits of bispecific antibodies for cancer therapy and how their dual targeting mechanisms of action may drive their emergence as the next generation of immuno-oncology drugs.