Childhood cancer survivors' mortality risk
Researchers find genetic explanation for increased risk of developing second cancers.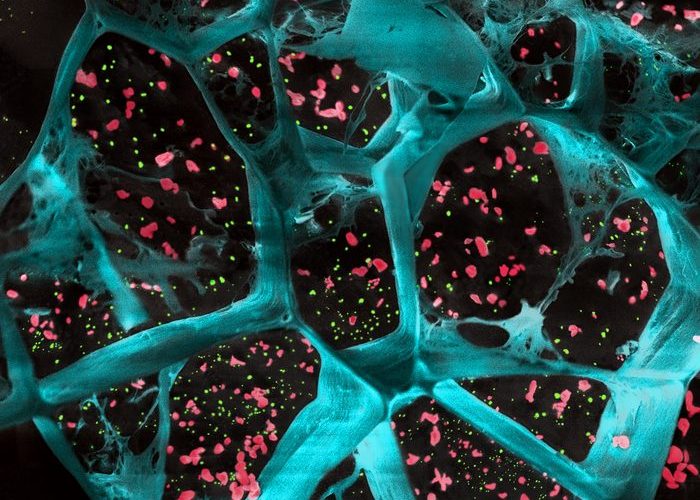 A high-magnification of the hydrogel (in blue) encapsulating T cell-activating platelets (in red) and nanoparticles that release a drug to inhibit tumor-boosting cells (in green). This gel inhibited the growth of cancer cells after surgical removal of different types of tumours [Credit: UW–Madison].
In the United States, the population of childhood cancer survivors is increasing, with an overall childhood cancer survival rate greater than 85 percent five years after diagnosis. However, survivors remain at increased risk of various health conditions, including second cancers. Published in The Lancet Oncology, scientists at St. Jude Children's Research Hospital used data from the Childhood Cancer Survivor Study (CSS) and the St. Jude Lifetime Cohort Study (St. Jude Life). They found that survivors with pathogenic genetic variants in specific genes, termed cancer-predisposing variants, are at an increased likelihood of developing second cancers and why these could be more serious or fatal. The results will inform genetic counselling, testing and adoption of personalised cancer screening and prevention strategies.  
The scientists had previously identified that survivors with pathogenic variants in one of 60 different cancer-predisposing genes or 127 DNA damage repair genes were more likely to develop a second or subsequent cancer. This study furthers that research to show a direct connection between cancer-predisposing variants and increased second cancer-related mortality. 
Many genetic variants are known to be causally linked to cancers, like the tumour suppressor gene TP53 which is one of the 60 genes included in the analysis. The key to this discovery's utility is that an individualised medicine approach can be made early in life for each survivor. These genetic variants are present in the DNA of patients when diagnosed with cancer as children. The enhanced understanding of the effect these genes have on future cancer risk will inform endeavours to prevent second cancers and improve survival outcomes. 
"Our study pinpoints that clinical genetic testing to screen for and identify if survivors are carriers of these pathogenic variants could lead to screening and early interventions for those at higher risk to develop deadly second cancers, potentially saving their lives," said Zhaoming Wang, PhD, St. Jude Department of Epidemiology and Cancer Control.
 Secondary cancer prevention
The total number of childhood cancer survivors who develop second or subsequent cancers is <10 percent based on current studies, and the percentage of survivors who carry cancer-predisposing variants is low (~6 percent). Combined, these factors have made it very difficult to study and understand the genetic risks for second cancers and their outcome in this population. Wang and his collaborators joined whole genome/exome sequencing and clinical data from over twelve thousand survivors of childhood cancer to reach statistically meaningful results.
"This is the first comprehensive study looking for the genetic reason for late mortality — specifically late mortality due to second cancers," Wang said. "Now we know that cancer-predisposing variants contribute to the risk of death from second cancer." 
More surveillance may help limit the impact of these cancer-predisposing variants as childhood cancer survivors grow into adulthood. With the knowledge of which survivors are at greater risk, health care providers could recommend personalised cancer screening, which could lead to additional cancers being detected at their earliest and most treatable stage.  
The cancer-predisposing variants are part of the inherited, or germline, DNA that people are born with. This means they can be detected in children when they are first diagnosed with childhood cancers, giving survivors the knowledge they require to lower their risk later in life. 
"Even before finishing childhood cancer treatment, clinicians can recommend referral to do genetic counselling so that survivors with these variants can seek cancer prevention strategies later on," Wang explained. "Depending on the gene harbouring the variant, survivors that are carriers may be able to implement prevention strategies to safeguard their long-term health."