Establishing Alpha CETSA HT in primary screening

ABOUT THIS WEBINAR
High-throughput screening (HTS) cascades have evolved to ensure that high quality hits can be identified from large screening collections. Traditionally, most primary screens focus on the identification of modulators of catalytically active sites, while target engagement assays are placed further down the cascade. The cellular thermal shift assay (CETSA®) is a physiologically relevant assay to detect endogenous protein levels. It directly identifies target engagement in a cellular environment, removing challenging and time-consuming protein or cell line generation steps and it can be performed in an HTS compatible isothermal microwell setup.
This could offer a fast-tracked starting point into the hit discovery process and has an attractive outlook of finding new chemistry that enables both classic functional modulators as well as potential novel PROTACS warheads. In this webinar you will see how Vertex Pharmaceuticals and AstraZeneca are exploring the power of CETSA®-HT, in conjunction with Alpha technology for detection, for larger scale primary HTS campaigns in close collaboration with Pelago BioScience and PerkinElmer.
Learning outcomes of this webinar:
Using CETSA® HT for compound screening and hit confirmation
Applying CETSA® HT on targets that are lacking chemical starting points
Overcoming challenges when using CETSA® HT in high-throughput screening
How CETSA® HT enables protein degradation focused drug discovery projects, such as PROTACs.
KEYNOTE SPEAKERS
Julie Alexandre, Senior Research Scientist, Vertex Pharmaceutical 
Julie Alexandre is Senior Research Scientist within the Molecular Sciences high-throughput assay-development & screening team at Vertex Pharmaceutical's Oxford research facility. Julie earned a master degree in Chemistry and a PhD in glycobiology, followed by a post-doctoral fellowship at UPMC-Paris 6, studying enzymology. From there, Julie joined the enzymology team at Vertex UK, focusing on assay development, high-throughput screening and small-molecule inhibitor mode of action studies. Having observed the importance of studying enzymes under as physiologically relevant conditions as possible, she was keen to exploit CETSA® as a means for high-throughput screening in cells.  
Kirsten Tschapalda, Senior Research Scientist, AstraZeneca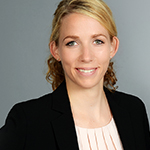 Kirsten Tschapalda is a Senior Research Scientist in the Global High Throughput Screening Centre at AstraZeneca, UK. She gained her PhD in a collaboration project between the Max-Planck Institute in Dortmund and the HHUD in Düsseldorf, followed by postdoctoral studies at the SciLifeLab/ Karolinska Institute in Stockholm. Her screening expertise combines both academic and industrial HTS campaigns with a focus on cell-based screening and ventures into the different flavors of CETSA®.
Related topics
Antibodies, Assays, Biomarkers, Disease Research, Hit-to-Lead, Lab Automation, Label-Free, Personalised Medicine, Screening, Targets, Toxicology