Under the microscope: Keying into UK biosciences – GenScript Biotech operations lands in Oxford
With operations in over 100 countries worldwide, GenScript Biotech, an industry leader in biotechnology reagent services, has established a new UK office in the Oxford area to better connect with the UK biosciences sector.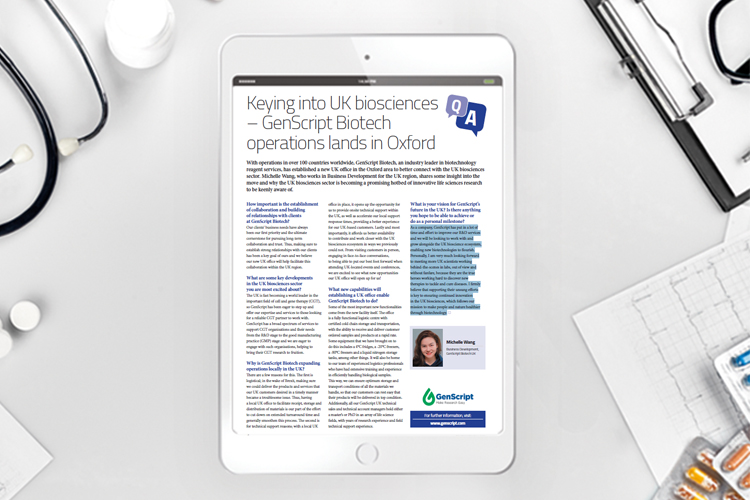 With operations in over 100 countries worldwide, GenScript Biotech, an industry leader in biotechnology reagent services, has established a new UK office in the Oxford area to better connect with the UK biosciences sector. Michelle Wang, who works in Business Development for the UK region, shares some insight into the move and why the UK biosciences sector is becoming a promising hotbed of innovative life sciences research to be keenly aware of.
How important is the establishment of collaboration and building of relationships with clients at GenScript Biotech?
Our clients' business needs have always been our first priority and the ultimate cornerstone for pursuing long-term collaboration and trust. Thus, making sure to establish strong relationships with our clients has been a key goal of ours and we believe our new UK office will help facilitate this collaboration within the UK region.
What are some key developments in the UK biosciences sector you are most excited about?
The UK is fast becoming a world leader in the important field of cell and gene therapy (CGT), so GenScript has been eager to step up and offer our expertise and services to those looking for a reliable CGT partner to work with. GenScript has a broad spectrum of services to support CGT organisations and their needs from the R&D stage to the good manufacturing practice (GMP) stage and we are eager to engage with such organisations, helping to bring their CGT research to fruition.
Why is GenScript Biotech expanding operations locally in the UK?
There are a few reasons for this. The first is logistical; in the wake of Brexit, making sure we could deliver the products and services that our UK customers desired in a timely manner became a troublesome issue. Thus, having a local UK office to facilitate receipt, storage and distribution of materials is our part of the effort to cut down on extended turnaround time and generally smoothen this process. The second is for technical support reasons; with a local UK office in place, it opens up the opportunity for us to provide onsite technical support within the UK, as well as accelerate our local support response times, providing a better experience for our UK-based customers. Lastly and most importantly, it affords us better availability to contribute and work closer with the UK biosciences ecosystem in ways we previously could not. From visiting customers in person, engaging in face-to-face conversations, to being able to put our best foot forward when attending UK-located events and conferences, we are excited to see what new opportunities our UK office will open up for us!
What new capabilities will establishing a UK office enable GenScript Biotech to do?
Some of the most important new functionalities come from the new facility itself. The office is a fully functional logistic centre with certified cold chain storage and transportation, with the ability to receive and deliver customer ordered samples and products at a rapid rate. Some equipment that we have brought on to do this includes a 4°C fridges, a -20°C freezers, a -80°C freezers and a liquid nitrogen storage tanks, among other things. It will also be home to our team of experienced logistics professionals who have had extensive training and experience in efficiently handling biological samples. This way, we can ensure optimum storage and transport conditions of all the materials we handle, so that our customers can rest easy that their products will be delivered in top condition. Additionally, all our GenScript UK technical sales and technical account managers hold either a master's or PhD in an array of life science fields, with years of research experience and field technical support experience.
What is your vision for GenScript's future in the UK? Is there anything you hope to be able to achieve or do as a personal milestone?
As a company, GenScript has put in a lot of time and effort to improve our R&D services and we will be looking to work with and grow alongside the UK bioscience ecosystem, enabling new biotechnologies to flourish. Personally, I am very much looking forward to meeting more UK scientists working behind-the-scenes in labs, out of view and without fanfare, because they are the true heroes working hard to discover new therapies to tackle and cure diseases. I firmly believe that supporting their unsung efforts is key to ensuring continued innovation in the UK biosciences, which follows our mission to make people and nature healthier through biotechnology.