ELRIG: New modalities in pharmacology and drug discovery
Drug Target Review's Ria Kakkad recently visited ELRIG and the British Pharmacological Society's conference on New Modalities in Pharmacology and Drug Discovery which took place in London, UK. This article shares some of the key takeaways from the event.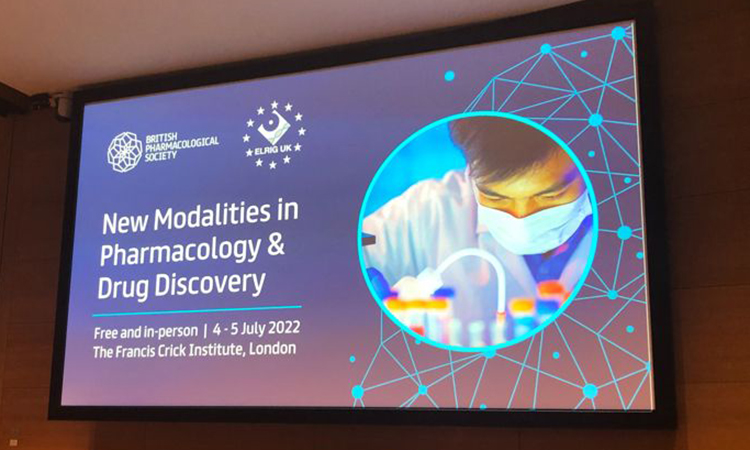 On 4 and 5 July 2022, ELRIG and the British Pharmacological Society (BPS) held a joint meeting on New Modalities in Pharmacology and Drug Discovery. Experts from both industry and academia came together in London, UK to discuss novel pharmacological strategies and how these are being translated to patients.
At the conference, which took place at the Francis Crick Institute, there were a range of talks by leading experts, a workshop and an exhibition of businesses which allowed stakeholders to learn more about current advancements in the field.
On the first day, the conference opened with a fascinating presentation from Steve Rees OBE, the Vice-President of Discovery Biology at AstraZeneca. Rees highlighted the fantastic developments in drug discovery over the past 30 years, including CRISPR and mRNA vaccines, while also discussing the characterisation of new molecules via testing on biological systems. However, he remarked that more often than not, these molecules and therapeutics cannot translate to the patient and thus fail in Phase II clinical trials. Therefore, new modalities are needed.
Rees explained that many of these fail in Phase II due to a lack of efficacy. On the other hand, he commented that it could be possible "the medicine has been tested on the wrong people and so it did not work." Either way, he continued, "failing at Phase II is expensive and it could take 10 years,  costing around $100 or $200 million, to succeed."
One point that Rees addressed in his talk is the importance of lab automation, with researchers "generating huge amounts of data that we could not imagine we could generate 10 years ago." With automation and this vast amount of data, scientists can now identify targets more likely to succeed in Phase II trials.
The first day ended with a great roundtable discussion between Rees, Dr Lucy Holt from GSK and Dr Louise Walport from the Francis Crick Institute. An interesting question from this discussion came from an audience member, who asked about the relationship between academia and industry and how useful academic papers are to those working in industry. Rees shared an example of how "artificial intelligence (AI) has changed the way [scientists] are working," as experts in the field have supported his research by creating knowledge graphs that suggest specific targets involving disease states.
Another hot topic over the two days was targeted protein degradation (TPD), with Dr Ian Churcher from Amphista Therapeutics talking about the innovative drug strategy. TPD's aims are to remove photogenic proteins from cells. While this can already be done via a range of genome approaches such as CRISPR, there are many challenges with the traditional methods of delivery. Churcher explained that TPD works similarly, but it is done at a post-transcriptional level with a small molecule.
How protein degradation works, at its heart, is a proximity-induced phenomenon and it goes beyond a lot of the initial rules of drug discovery"
He explained that these novel approaches have quickly become popular in the industry as they provide efficient transformation and therapeutic options by removing disease-causing proteins rather than just inhibiting their function.
Other speakers at the ELRIG conference included Dr Sandra Stefanovic-Barrett from AstraZeneca who spoke about PROTACS, Dr Damien Young from the Baylor College of Medicine who gave a presentation on fragment-Based Drug Discovery (FBDD) and Cynthia Okoye from the University of Cambridge who shared her research on how ubiquitin-mediated proteolysis of Aurora A (AURKA) regulates its activity.
Sign up for our FREE event!
Learn how to accelerate screening and Structure Activity Relationship (SAR) analysis in the targeted protein degradation (TPD) drug discovery field.
SIGN UP HERE