Laboratory automation in early drug discovery
The future of drug discovery lies in an automated world where the workflows for biological assays, chemical synthesis and data analysis are connected by flexible, mobile and modular hardware, integrated with software solutions that will interface with scientists for increased efficiency and productivity (the realisation of Industry 4.0). This article explores these concepts through the eyes of researchers at AstraZeneca's High-Throughput Screening Centre.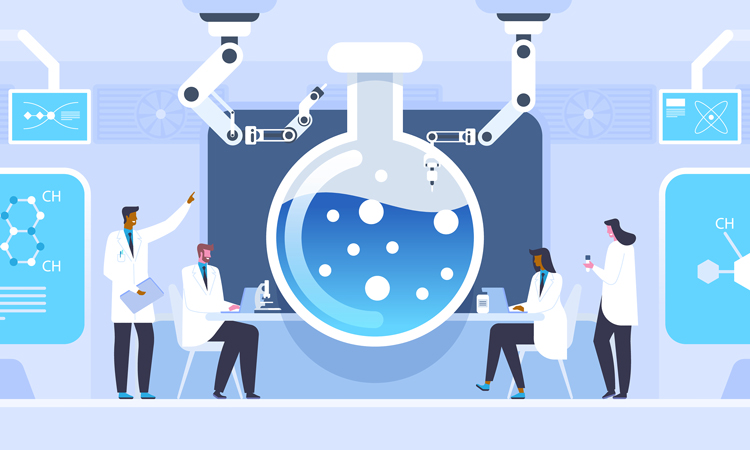 DRUG DISCOVERY is a complex and costly process, with the average cost recently estimated at almost $2.9 billion per approval. It has long been appreciated that improving large pharma's poor track record on productivity requires an increase in the number and quality of new medicines, while preventing the unsustainable rise in R&D costs.2 AstraZeneca has historically focused on a 5R framework3 to improve decision making and productivity, with substantial success. However, with success rates remaining below 20 percent, there is continued focus on opportunities to improve. As pharma companies pursue these goals, automation will be a key component in future research and development. Throughout the drug discovery value chain, automation has the potential to both increase laboratory efficiency and decrease costs. New technologies, as well as new applications including the combination with artificial intelligence (AI), and automated data analysis procedures are reducing the time to agency approval and the number of scientists needed per data point. However, there are additional benefits, alongside the reduced costs and decreased timelines, that make automated processes essential for the future of drug discovery. Investment in automation permits the safer generation of data with improved accuracy, precision, reproducibility and traceability, allowing drug discovery scientists to exploit higher‐quality data in the hypothesis‐driven research required to discover new medicines. Further to this, automation allows greater numbers of hypotheses to be tested and can enable complex workflows and screening scenarios that simply cannot be achieved reliably by a human.