COVID-19 In-Depth Focus 2020
This in-depth focus features articles on neuropilin-1, a potential new target for COVID-19 drug development, the creation of a lung model to enhance our understanding of SARS-CoV-2 infections and using proteomics to uncover the mechanisms behind COVID-19 symptom severity.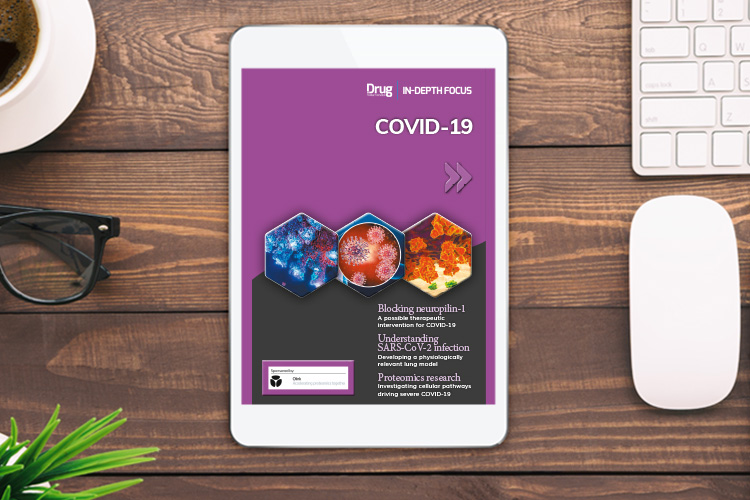 Find in this in-depth focus:
Neuropilin-1: a key receptor in SARS-CoV-2 infection
Results of a recent study by researchers at the University of Bristol indicate neuropilin-1 is an important host factor for SARS-CoV-2 infection. The team suggests that blocking neuropilin-1 may be a valuable therapeutic intervention in the treatment of COVID-19. Nikki Withers spoke to one of the study's lead investigators, Dr Yohei Yamauchi, to hear more about their findings.
Development of a physiologically relevant lung model for understanding SARS‑CoV-2 infection
COVID-19 is known to infect the lungs; however, the dynamics of viral infection and replication are poorly understood. Alongside the Liverpool School of Tropical Medicine, Professor Lyle Armstrong and colleagues have been working to develop a human lung epithelium model of SARS-CoV-2 infection and replication. In this article, he describes data that show the model can be successfully infected with SARS‑CoV-2 via angiotensin converting enzyme 2 (ACE2) proteins expressed on the cell surface and allows replication of the virus once inside its cells. The model provides a valuable platform to study SARS‑CoV-2 pathogenesis and evaluate candidate vaccines and therapeutics.
Investigating cellular pathways driving severe COVID-19 with proteomics
Researchers from Massachusetts General Hospital have studied several thousand circulating proteins within the plasma proteome of symptomatic COVID-19 patients and acutely ill non-COVID-19 controls. Nikki Withers discussed their findings and implications of the study with one of the lead authors, Dr Mike Filbin.