New headquarters in Scotland strengthens drug discovery research
A provider of products and services for research in stem cells, drug discovery, human tissues and 3D cell culture has opened its European headquarters in Glasgow, UK…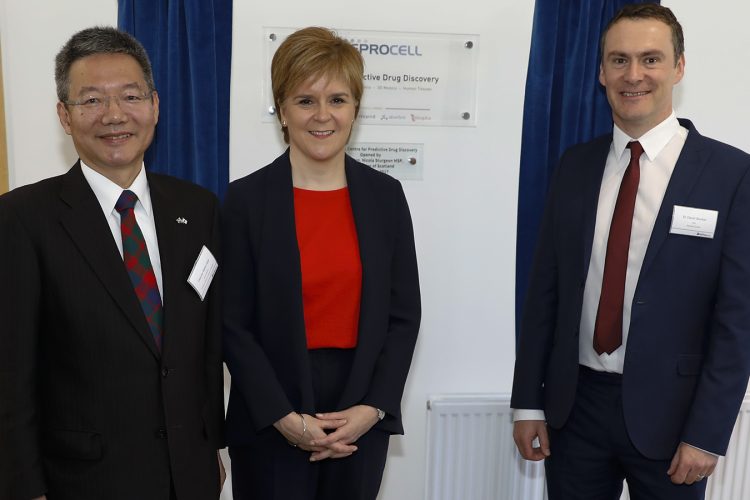 Left to right: Daisuke Matsunaga, Consul General of Japan, Nicola Sturgeon, First Minister of Scotland, Dr David Bunton,CEO REPROCELL Europe Ltd.
A provider of products and services for research in stem cells, drug discovery, human tissues and 3D cell culture and a member of the REPROCELL Group, has opened its European headquarters in Glasgow, UK.
The new headquarters will enable the company to strengthen its pharmaceutical industry-targeted drug discovery services and translational research, and generate new employment opportunities in Scotland. The company's relocation to the West of Scotland Science Park was supported by £150,000 of Regional Selective Assistance from Scottish Enterprise in December 2016. Since then,
REPROCELL has expertise in the development of predictive assays using stem cells, 3D tissue models and fresh human tissues, which offer the pharmaceutical industry novel tools for investigating the safety and efficacy of new drug candidates early in the drug discovery process.
The Centre for Predictive Drug Discovery will allow the company to continue to develop these lines of business by growing its Glasgow-based workforce and expand operations to focus on the launch of new services.
 The Centre for Predictive Drug Discovery was inaugurated by Scotland's First Minister, Nicola Sturgeon.