The overlap of 3D bioprinting and 3D cell culturing in cancer research
SMi's 3D Cell Culture conference will gather together a room full of CEOs, scientific pioneers and senior decision makers directly under one roof…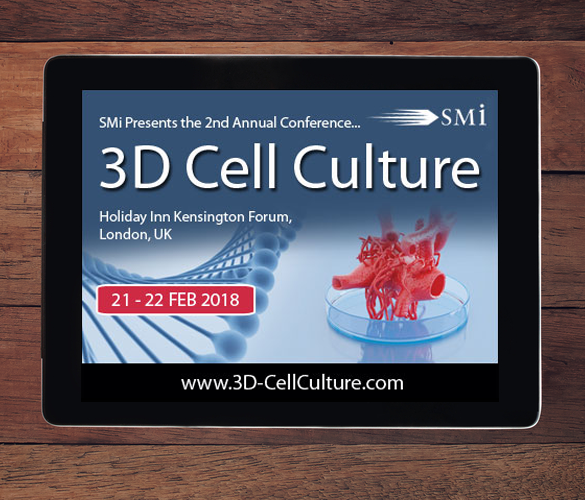 Taking place in London on 21 and 22 February 2018, the theme for the 2nd annual show is to strengthen commercial success through combining clinical breakthroughs with scientific research.
Highlights will include a look into the overlap of 3D bioprinting and 3D cell culturing in cancer research through a case study presented by Nicholas Leslie.
Nick is a cancer cell biologist and a Professor at Heriot Watt University in Edinburgh and has extensively studied the tumour suppressor, PTEN. At HWU, much of his lab's research is in collaboration with engineers, applying biofabrication methods and other new technologies to cancer research.
His unique experience will provide attendees with insight into the reliance of 3D bioprinting on spheroid models and cell organisation. Drawing from different disease models, guidance will also be given on achieving correct architecture and on the placement of cells in printing for improved modelling.
3D Cell Culture 2018 will also feature further case studies on:
Electrospun Micro-Scaffold Based Biology – A 3D Biology Approach to Overcome Challenges for Well-Based Screening by Gary Allenby, Business Development Director & Chief Scientific Officer, Aurelia Bioscience
Merging Crispr-Editing and Single Cell Sequencing Technologies to Uncover the Biology of Human Neurodevelopmental Diseases in 3D: Case Studies with Zika Virus and Tuberous Sclerosis by Max Salick, Postdoctoral Researcher, Novartis Institutes For Biomedical Research
Next Generation Jellyfish Collagen – Applications for 3D Cell Culture by Andrew Spragg, CEO, Jellagen.
Fast Whole Well Imaging Using the Celigo Image Cytometer by Scott Cribbes, Director of New Technologies & Emerging Markets, Nexcelom.
Further information including a full speaker line-up and detailed agenda is available online at http://www.3D-CellCulture.com/dtr
3D Cell Culture 2018 is sponsored by Jellagen Pty Ltd and Nexcelom Bioscience. It will take place on 21 and 22 February at the Holiday Inn Kensington Forum in Central London, UK.