Improving cell-based assays and their future in drug discovery

ABOUT THIS WEBINAR
This webinar summarises the challenges in translating promising pre-clinical therapeutic candidates into clinical success.
Our speaker:
Highlights the effectiveness and limitations of disease models currently used in drug discovery
Discusses how they envision the future of cell-based assays for drug discovery.
Topics covered include 3D in vitro models; complex co-culture assays using patient samples; iPSCs; imaging as a method for understanding the impact of a therapeutic; the use of functional genomic screens to aid drug discovery; and in vitro models to support the 3Rs.
Learning outcomes of this webinar:
Explore new methods to address the high failure rate in drug discovery and improve clinical successes
Understand how the industry is changing and where the challenges and opportunities are for the sector.
KEYNOTE SPEAKER
Dr Sheraz Gul, Head of Assay Development, Screening and Drug Discovery, Fraunhofer Institute for Molecular Biology and Applied Ecology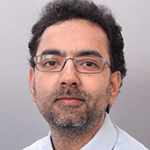 Sheraz is Head of Drug Discovery at the Fraunhofer Institute for Molecular Biology and Applied Ecology. In his role, he is responsible for the management and development of Assay Development and Medium and High Throughput Screening activities for partners across the world. He is co-author of >60 peer-reviewed papers and the Enzyme Assays: Essential Data handbook. Since 2011 he has organised 45 drug discovery workshops and trained 870 scientists.