Mobile phase optimisation for oligonucleotide analytical methods by LC-MS

ABOUT THIS WEBINAR
The use of alkylamine ion pair and perfluorinated alcohols in the analysis of oligonucleotides by LC-MS techniques has been the mainstay in characterisation and quantitation methods for synthetic oligonucleotides for decades. Often, analytical chemists default to relatively high concentrations of both, but how much ion pair is needed for optimal chromatographic performance and how much does perfluorinated alcohol concentration contribute to electrospray ionisation efficiency? In this presentation, we explore modulation of both mobile phase additives, including different options for alkylamine ion pair outside of the commonly used triethylamine. We also show how optimisation of mobile phase can improve not only chromatographic performance and MS sensitivity, but may also directly impact MS data acquisition, thus facilitating data analysis.
Learning outcomes of this webinar:
Determine experimental parameters to ensure proper experimental design during method development
Understand the role of mobile phase and column chemistry in LC-MS methods for oligonucleotides
Learn how to improve overall method robustness and sensitivity for oligonucleotide method development.
KEYNOTE SPEAKER
Brian Rivera, Senior Product Manager, Phenomenex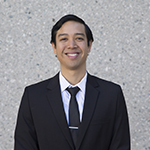 Brian Rivera is currently the Product Manager for Bioseparations Products at Phenomenex, Incorporated, Torrance, California, US. Prior to this role, Brian has held a variety of positions in sales and marketing related to biotechnology products. He worked as a Technical Sales Specialist for Phenomenex and Eppendorf, an Account Manager for ProZyme and a Biotechnology Product Specialist for Phenomenex. Prior to his business-facing roles, Brian worked in analytical methods development and in manufacturing support roles for a few biotechnology companies in the San Francisco Bay Area; including Avid Bioservices, ProZyme and Chiron Corporation. He has a bachelor's degree from the University of California, Davis.