Advancing neutralising antibody therapies for COVID-19
In this article, Ian Chan, Chief Executive Officer and Co-Founder of biotech company Abpro, discusses the development of neutralising antibodies for SARS-CoV-2. Abpro's neutralising antibody candidate ABP 300 is currently in Phase II/III trials.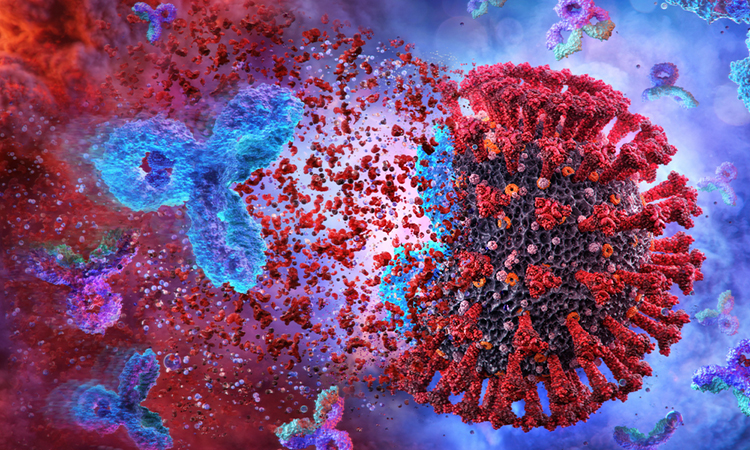 Many people have heralded the roll-out of COVID-19 vaccines as the beginning of the end for the COVID-19 pandemic. However, SARS-CoV-2 – the virus that causes novel coronavirus disease 2019 (COVID-19) – is still circulating, with some new variants increasing transmissibility and others potentially causing more severe disease. As case numbers continue to rise, there is tremendous pressure on healthcare systems to support patients suffering from the severest symptoms.
So, while vaccines bring hope, the pharma industry continues to develop, validate and achieve accreditation for treatments that can benefit patients suffering from the diverse range of symptoms caused by COVID-19.
One popular treatment option is SARS-CoV-2 neutralising antibodies, some of which are currently being clinically evaluated for a range of applications and some which have gained Emergency Use Authorisation (EUA) from the US Food and Drug Administration (FDA). One example is Regeneron's REGEN-COV antibody cocktail, which is being tested for post-exposure prophylaxis to prevent symptom progression in non-hospitalised patients suffering with mild-to-moderate disease and to treat hospitalised patients with more severe symptoms. Eli Lilly's antibody combination, bamlanivimab (LY-CoV555) and etesevimab (LY-CoV016), is similarly being tested in a range of indications from prophylaxis in high-risk patients to treatment of symptoms.
To find out more about the development of neutralising antibodies, Drug Target Review's Hannah Balfour, discussed the process with Ian Chan, Chief Executive Officer and Co-Founder of Abpro, whose SARS-CoV-2 neutralising antibody candidate ABP 300 is currently in Phase II/III trials.
Why develop neutralising antibody therapies for COVID-19?
Chan explained: "Neutralising antibodies prevent the SARS-CoV-2 virus which causes COVID-19 from entering into human cells. They can be used in two different application areas. The first is for treatment; in individuals who have fallen ill with COVID-19, neutralising antibodies have shown that they can serve as potential first-line therapies for patients with mild-to-moderate symptoms. The second is for prophylactic or preventative treatment; to prevent progression of the infection and the development of symptoms if someone has been exposed to SARS-CoV-2."
Some successes in clinical trials so far:
Lilly's antibody combination was found to decrease patients' risk of COVID-19 hospitalisation and death by 70 percent
Celltrion Group's anti-COVID-19 monoclonal antibody treatment candidate, CT-P59, was found to reduce recovery times and risk of hospitalisation in patients with mild-to-moderateand moderate symptoms
EUSA Pharma's Siltuximab was shown to reduce the risk of 30-day mortality by 54 percent in patients with serious COVID-19
REGEN-COV was shown to completely prevent the onset of symptomatic COVID-19 infection and reduce the overall infection rate by half in a passive vaccination trial.
Visit our sister publication European Pharmaceutical Review for clinical trial news…
How are neutralising antibodies developed?
Neutralising antibodies can be generated in a variety of ways but the majority of those being developed for COVID-19 are modified from antibodies isolated from patients who had recovered from a SARS-CoV-2 infection, such as Lilly's bamlanivimab antibody. This is also true of Abpro's ABP 300.
Chan commented: "ABP 300 was created using the latest technologies available for antibody drug discovery to isolate antibodies directly from recovered patients and optimise those antibodies to make them as effective and safe as possible. We have used our Diversimmune platform to create a comprehensive programme for COVID-19 neutralising antibody therapies, including for mutant escape and highest possible safety."
Neutralising antibodies prevent the SARS-CoV-2 virus which causes COVID-19 from entering into human cells"
He added that ABP 300 was modified to allow for more potent viral neutralisation and greater safety, due to reduced antibody-dependent enhancement (ADE). ADE is a potential adverse effect that has been found to increase the severity of various viral infections, including other respiratory viruses like respiratory syncytial virus (RSV). There are two pathways for ADE: either the antibodies enhance the uptake of viruses into phagocytic cells leading to increased viral infection and replication, or the antibodies spark an excessive immune response enhancing inflammation and immune-mediated pathologies. These occur when non-neutralising antibodies, or neutralising antibodies at a concentration insufficient to neutralise the virus, bind to viral antigens without blocking or clearing infection.1
He continued: "ABP 300 neutralises COVID-19 by binding to the Receptor Binding Domain (RBD) of the SARS-CoV-2 Spike (S) protein, blocking the viral interaction with the angiotensin-converting enzyme 2 (ACE2) receptors of the host cells, which is critical for viral entry and infection. Through this mechanism of action, ABP 300 completely neutralised COVID-19 in animal models.
"In addition to potentially being safer than other neutralising antibodies under development, ABP 300 has been created to work across a large number of SARS-CoV-2 strains." In pre-clinical studies it was found to be able to bind to eight of the most common strains of RBD proteins, blocking viral interactions with host cells.
How did ABP 300 perform in pre-clinical trials?
"We published some of our pre-clinical data in Nature Communications in November 2020.2 It showed that, in non-human primates, a single dose of ABP 300 was sufficient to block infection with SARS-CoV-2 in prophylactic treatment and clear SARS-CoV-2 in three days in a therapeutic setting.
"The protective effect of ABP 300 [MW05 in the publication] was demonstrated by alleviating the lung lesions caused by SARS-CoV-2 in the rhesus macaques whether the antibody was injected before or after the virus challenge. ABP 300 also showed high RBD binding abilities, a strong ability to disrupt RBD/ACE2 binding, and effectively neutralised both SARS-CoV-2 pseudo virus and authentic live virus. Rhesus macaques are a widely used model to assess efficacy of therapeutics and vaccines for SARS-CoV-2 because it closely mirrors human infection and disease. This pre-clinical validation in large animal models is unique, as very few neutralising antibodies under development, including those in the clinic, have such extensive testing in non-human primates."
What about antibody therapies excites you?
"This is a great field to be in right now. Antibodies are perhaps the largest class of approved therapies in the biotechnology industry and right now the field has made significant new discoveries in recent years to propel this field further along.
"Nature's way of fighting disease is quite powerful and proven. We found this with checkpoint inhibitors for cancer and are now seeing it again with neutralising antibodies for COVID-19, both of which are first-line therapies in their respective fields. I believe we will see more combinations and new targets going forward that can help patients."
References
Lee W, Wheatley A, Kent S, et al.Antibody-dependent enhancement and SARS-CoV-2 vaccines and therapies. Nat Microbiol 5, 1185–1191 (2020). https://doi.org/10.1038/s41564-020-00789-5
Wang S, Peng Y, Wang R, et al. Characterization of neutralizing antibody with prophylactic and therapeutic efficacy against SARS-CoV-2 in rhesus monkeys. Nat Commun 11, 5752 (2020). https://doi.org/10.1038/s41467-020-19568-1