Potential EBV-associated cancer treatment in small molecule inhibitors
A small molecule inhibitor has been observed to activate a dramatic reduction in tumour growth in EBV-associated tumours…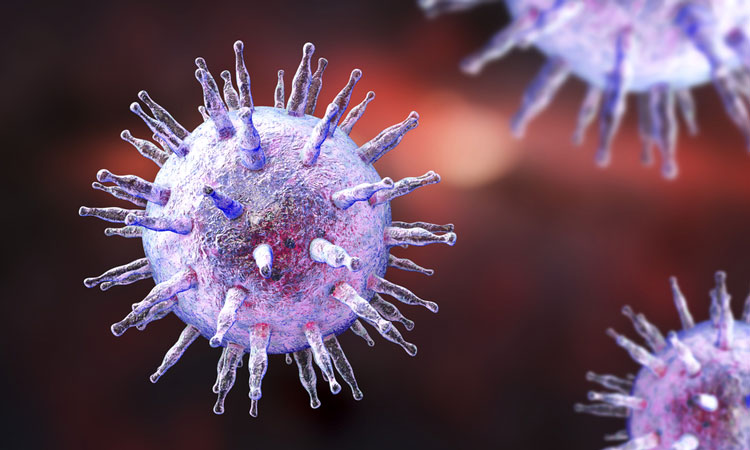 A drug candidate for cancers that are associated with Epstein-Barr virus (EBV) has been identified.
Researchers at The Wistar Institute created a drug candidate for cancer associated with EBV, describing inhibitors of the protein EBNA1, Epstein-Barr nuclear antigen 1. EBNA1 is a DNA-binding protein that is critical for virus replication and for the continuous proliferation of infected cells.
The identified drug candidate has shown efficacy in preclinical models.
"EBNA1 is found in all EBV-associated tumours and does not look like any other protein in the human body," said Dr Paul M. Lieberman, Hilary Koprowski Endowed Professor, leader of the Gene Expression & Regulation Program at Wistar, and corresponding author on the study.
"These characteristics, along with the protein's particular structure, make EBNA1 a very attractive therapeutic target."
Dr Lieberman and his colleagues worked on a class of compounds based on the 3D structure of the virus. They looked at small molecule inhibitors that block the ability of EBNA1 to bind with DNA.
The research team used mouse models of EBV-associated cancers to establish the efficacy of the drug compounds. They transplanted tumour cells, or patient-derived tumour samples into immunocompromised mice, and discovered a dramatic reduction in tumour growth in all conditions. The tumour growth inhibition was greater that that achieved through gamma irradiation or chemotherapy – standard care for patients affected by EBV-associated cancers.
"It has taken the lab nearly a decade to go from concept to identifying a clinical candidate," said Dr Troy E. Messick, first and co-corresponding author on the study and senior staff scientist in the Lieberman Lab. "We are excited about the activity of these inhibitors in a number of preclinical studies and look forward to the next steps of development."
Tests conducted by the scientists showed a favourable pharmacological profile, with pharmacological inhibition having profound effects on the gene expression of both EBV and host-cell genes. No evidence of drug resistance was identified.
The study was published in the journal Science Translational Medicine.