Untangling gene expression complexity with pooled CRISPR screens coupled to single-cell transcriptome analysis

ABOUT THIS WEBINAR
Pooled knockout screening with CRISPR-Cas9 has revolutionised drug discovery and has evolved to become the backbone of many drug discovery pipelines. Though powerful in its own right, pooled CRISPR screening is often restricted to the measurement of a single phenotype such as proliferation or cell survival, or simple phenotypic changes, such as, measurement of changes in activity of a single gene through the generation of a reporter cell line. To better understand drug responses and the occurrence of treatment resistance it is paramount to investigate the underlying mechanisms at single-cell resolution. 
CRISPRsc (CRISPR single cell) combines the flexibility of pooled screening with the power of transcriptomics at single-cell resolution. By linking a specific guide RNA to single-cell whole transcriptome readout, CRISPRsc offers the opportunity to interrogate the phenotype of any given genetic perturbation in unprecedented detail.
During this on-demand webinar we present data showing how Horizon's CRISPRsc screening platform offers a streamlined approach to elucidating valuable and intriguing biological information that is critical to resolving complex biological questions.
Learning outcomes of this webinar:
Review of CRISPR screening and how it relates to single-cell applications
Overview of Horizon's CRISPRsc workflow
Experimental data demonstrating the effectiveness of the system in identifying relevant biology.
Register
Speaker
Carlos le Sage, Manager – Manager of the Functional Genomic Screening Platform, Horizon Discovery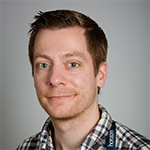 Carlos is Manager of the Functional Genomic Screening Platform at Horizon Discovery. His research focuses mainly on discovering novel resistance and sensitivity 
mechanisms of cancer cells exposed to newly-developed compounds. He has many years of experience in the development and use of functional genomic techniques, initially with RNAi and more recently with CRISPR gene modifying and modulating technologies for genome-wide loss- and gain-of-function screening.
Since joining Horizon Discovery, Carlos has engaged in a large number of client-based projects centred on functional genomics. He received the Trailblazer Award for his involvement in developing and providing CRISPR activation and interference genome-wide screen technologies as off-the-shelf services in 2017. Prior to joining Horizon Discovery, Carlos completed postdoctoral research with Steve Jackson at the Gurdon Institute in Cambridge. He holds a PhD in biology from the Netherlands Cancer Institute through Leiden University.