Screening In-Depth Focus 2020
Included in this in-depth focus are articles on how high-throughput screening can be used to identify lead compounds, using chemoinformatics as a map to guide drug discovery and a novel in vitro model to screen potential treatments for non-alcoholic fatty liver disease (NAFLD).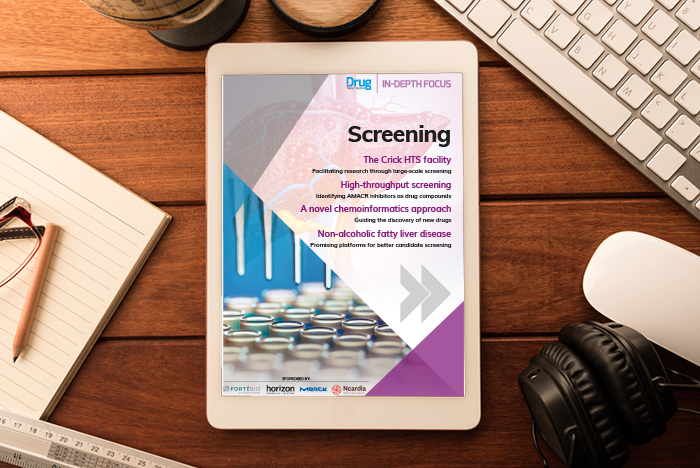 Find in this in-depth focus:
The Crick HTS facility – facilitating research through large-scale screening
The high-throughput screening (HTS) facility at the Francis Crick Institute in the UK provides a core service for Crick research groups. It enables scientists to use large-scale, unbiased screening technologies and approaches as part of their research. Nikki Withers spoke to the Science Technology Platform Head, Michael Howell, to hear more about the services they provide.
High-throughput screening as a method for discovering new drugs
High-throughput screening is a common method of identifying lead compounds for drug development. The most common targets are enzymes – catalytic proteins that perform chemical reactions in the cell. In this article, Matthew Lloyd discusses the opportunities and challenges associated with this approach.
If Columbus had a map… guiding the discovery of new drugs
Exploring large databases and selecting compounds of interest can be extremely time-consuming for researchers. Here, Sacha Javor, Horst Flotow and Jingwen Shi discuss a novel chemoinformatics approach for drug discovery.
Current state of NAFLD treatments and the promise of in vitro platforms towards better screening of drug candidates
The heterogeneous pathogenesis of metabolic fatty liver diseases presents researchers with numerous challenges when trying to develop a treatment. This article explores the spectrum of these diseases and presents a novel in vitro platform for screening drug candidates.