Drug repurposing approaches to fast track development of new therapies for COVID-19

ABOUT THIS WEBINAR
This webinar described the recent efforts to identify small molecule therapeutics for the treatment of SARS-CoV-2 infection and COVID-19 disease. In this context, approaches for the repurposing of compounds employing screening libraries of drugs and clinical candidates are presented. The studies include the identification and phenotypic assessment of drugs capable of reducing the cytopathic effects of the SARS-CoV-2 virus on human cells. Parallel biochemical and structural studies of essential proteins involved in viral replication will illustrate the potential mechanism of action of the compounds.
Learning outcomes of this webinar:
Learn about on-going compound repurposing efforts, to address the current lack of therapies for COVID-19
Understand how these studies help with the identification and phenotypic assessment of drugs to reduce the cytopathic effects of SARS-CoV-2 virus on human cells 
Our expert speaker, Philip Gribbon, answers questions about opportunities and challenges of drug repositioning to quickly tackle new diseases such as COVID-19.
KEYNOTE SPEAKER
Dr Philip Gribbon, Assistant Head of Department at Fraunhofer IME – ScreeningPort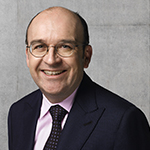 Philip is the Assistant Head of Department at the Fraunhofer IME ScreeningPort in Hamburg, Germany. His role involves leadership of the organisation in areas of drug discovery, including enabling technologies, biomarker and translational research, and R&D information technologies.
Prior to his current position, Philip worked as the Chief Scientific Officer/Operating Officer of the European ScreeningPort and co-ordinator of the EU-OPENSCREEN European Research Infrastructure.
He has also held postions at GlaxoSmithKline and Pfizer and has a PhD from the University of Manchester, UK.
Philip's research interests include maximising the impact of screening methods using assays with greater biologically relevance (eg iPS-derived cell lines, 3D microtissues, primary cell assays etc), as well as the development of new biophysical-based screening methods.
Related topics
Analytical Techniques, Antibodies, Antimicrobials, Artificial Intelligence, Assays, Bioengineering, Biomarkers, Biopharmaceuticals, Cell Cultures, Disease Research, Genome Editing, Hit-to-Lead, Imaging, Immunology, Lipids, Mass Spectrometry, Microbiology, Personalised Medicine, Proteomics, Regenerative Medicine, Screening, Stem Cells, Targets, Toxicology
Related organisations
Tecan